When you're in business, you will always look for the biggest share of your market—if you could have it all, so much the better. Sometimes you could settle for a reasonable slice of the market, simply because you're partnered with an industry pioneer that gives you steady business.

But to really grow your business, you have to grow your market share too, and that comes with risks. For Cebuana Lhuillier—the pawnshop chain that has grown to become a full-fledged financial services company—that risk was leaving a reliable partner to seek new ones, the best way it could gain more customers in the competitive remittance industry.

Biggest change

As Philippe Andre Lhuillier, vice president of Cebuana Lhuillier and head of its remittance business, explains: "That change was the biggest thing for us. In 1997 or 1998, we had started with Western Union. But when I started working here in 2002, one of the things we wanted to do was… we didn't want to stick with one partner."

Lhuillier, 36, felt staying with the remittance pioneer "restricted our movement, but it was the hardest decision, not continuing our partnership with Western Union."

That same year, Lhuillier began looking for remittance partners all over the world that would give Filipinos, especially overseas workers or OFWs, more ways to send to or receive money from their families. "The first year, it was hard to get these partners," he says. "We got two, and after that four, but we grew."

Cebuana's remittance business, called Pera Padala, "started growing at a steady pace" as Lhuillier was "getting partners I never knew existed." In one year alone, he says they signed up "about 15 partners. Now we have roughly 40, and we got stronger in each region (of the world)."

As an example, three of the five popular exchange houses in the Middle East—where most OFWs are deployed—"wanted to join with us," says the son of Cebuana founder and Ambassador Philippe J. Lhuillier.

Meanwhile, Cebuana breached the United States market (another significant source of OFW remittances) by partnering with MoneyGram—considered the No. 2 competitor globally to Western Union—and later tying up with US-based Xoom.com, a pioneer in online international money transfer services.

"We started growing with MoneyGram as they grew," says Andre Lhuillier. "We were their third or fourth partner in the Philippines, and we're pretty happy with it."
ADVERTISEMENT - CONTINUE READING BELOW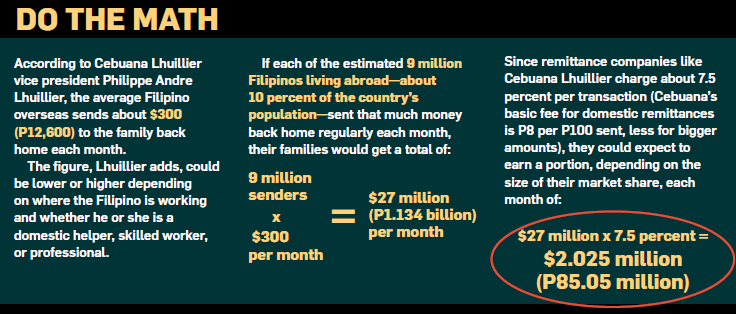 Backed by technology

Besides MoneyGram and Xoom, Cebuana Lhuillier also counts MyRemit, Transfast, XpressMoney, Wells Fargo, UAExchange, and local banks such as BDO, BPI, Metrobank, Chinabank, and RCBC among its many partners. Through them, Cebuana customers get a quick, easy way to send and receive money anywhere in the Philippines.

That is made possible by Cebuana's technology backbone, which ensures that all its transactions are real-time and allows its clients to claim their money as soon as the sender completes the sending process in the branch, adds Lhuillier.

"The system makes it easier to get remittances to our customers," he says. "We are rolling it out with some of our partners who don't have it yet, so instead of customers waiting 3 to 4 hours for their money, in 3 to 4 minutes it's available."

Apart from being quick and easy—being available in all 1,500 Cebuana Lhuillier branches nationwide—the Pera Padala system is also secure, complying with the strict requirements of the Bangko Sentral ng Pilipinas (BSP) and the Anti-Money Laundering Advisory Council (AMLAC), says Lhuillier. What's more, the system "is easy to roll out, and instantaneous; it's a unique advantage, not everyone has it," he adds.

Does this high-technology-and-multiple-remittance-partners approach get Cebuana a bigger share of the market? Ask the thousands of Filipino workers in Hong Kong, Lhuiller says; now they don't have to queue for hours just to send money to their families.

"Pinoys there are happy to go to us because they know when they leave (a Cebuana affiliate) their money is sent and received," Lhuillier says. "For some of them (domestic helpers in Hong Kong) who are only allowed out once a week, they don't have to wait in line anymore. Because (Pera Padala) is an open system, they don't have to choose their location (to send money from), they just say they want to send to this (recipient) and have it received anywhere in the Philippines."

Blazing a trail

What's clear is that the company has become "better than its competitors" because of its technology and its remittance partners that specialize in certain geographical "corridors" such as the Middle East. These partners are also promoting Cebuana "as the ultimate (money) pick-up station in the Philippines," says Lhuillier. "That's one of the biggest strengths that we have."

Looking back, Lhuillier believes Cebuana blazed a trail for other Filipino remittance and financial-service companies by breaking away from Western Union. "We are very happy because that started a trend," he says. "From what we did, other competitors started to follow. Maybe sticking with one is not the only thing out there, so from one partner, a lot of them started going the multiple-partner approach. We were the first to do that." And when your business has the biggest slice of the pie, it can certainly go a long, long way.
ADVERTISEMENT - CONTINUE READING BELOW
This article was originally published in the January to October 2012 issue of Entrepreneur magazine. Subscribe to the print or digital version here.