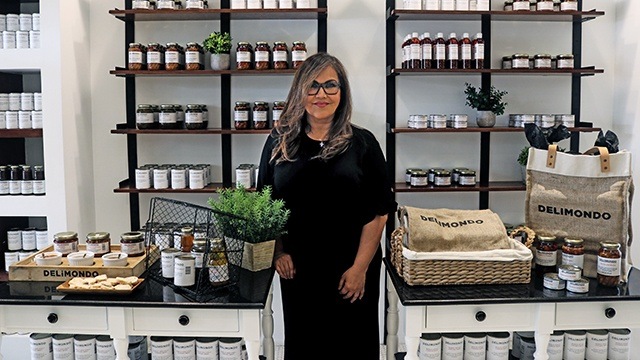 Katrina Ponce-Enrile is the president and CEO of Jaka Investment Group, which produces Delimondo
With a solid and growing cult following that can't seem to get enough of the premium corned beef, Delimondo's market success has taken its rivals by surprise. But not the businesswoman who conceptualized and developed the product in the mid-1990s.
ADVERTISEMENT - CONTINUE READING BELOW
"For the longest time they (competitors) didn't think this would make an impact or become a hit," says Katrina Ponce Enrile, the 57-year old president and CEO of JAKA Investment Corp. (JIC). "But I was very bullish about the products so I said, let's go on."
The company is part of the JAKA Group founded by her father, former Senator Juan Ponce Enrile, one-time defense secretary and martial law administrator of the late strongman Ferdinand Marcos.
It's hard to blame the competitors for not taking Delimondo seriously at first. After all, the company behind the product, JAKA Food Processing Corp., already tried to get into the corned beef business with a brand called Barney's. It never quite took off.
"When you start off wrong, it's quite difficult to be reintroduced in a different way," Enrile explained why Barney's didn't succeed.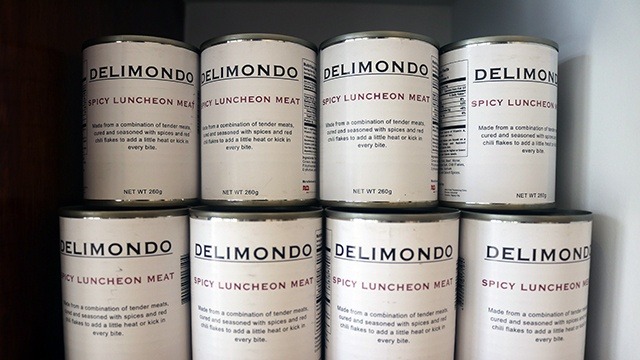 ADVERTISEMENT - CONTINUE READING BELOW
Ponce-Enrile started out by handing giving away Delimondo to close friends during Christmas. Today it is available in in most grocery stores nationwide
However, in the late 1990s, she started giving away unlabeled canned corned beef, made with her own recipe, as a special gift during the Christmas season. After getting a taste of the delicacy, friends started asking where they could get more of the canned corned beef.
"So I told them they could order it from me. I decided to introduce it in the Salcedo (weekend) market in 2006. That's where we really made a name and where the Delimondo brand was born," Enrile said.
While Enrile oversees the entire JAKA group, food has always been the Law graduate's passion. Her first entrepreneurial venture was Pandesal Magic, a food concept she developed when she was in college. But by the time she went to law school, she could not find the time to grow it. Then came along her stint in JAKA.
ADVERTISEMENT - CONTINUE READING BELOW
"We always had interests in food, but it would be in food processing of coconuts or something along those lines. I needed a creative outlet, and this was it for me," Enrile said.
In the next five years after creating Delimondo, Enrile sold the canned corned beef exclusively at the Salcedo weekly food fair. She watched customers come in droves and leave with troves of the canned product. Some bought for themselves but others shipped the corned beef to relatives abroad.
Move to Grocery Chains
In 2011, Delimondo became available in supermarket shelves for the first time when membership shopping group S&R asked Enrile to bring in some of the canned corned beef. "Then came Landmark, Rustan's. Now, SM was the latest to carry the brand. We're available almost nationwide," Enrile said.
While the Salcedo weekend market gave Delimondo a loyal following, S&R introduced it to a broader market of affluent consumers. These buyers are willing to shell out at least Php150 for 260 grams of canned corned beef made from pure beef. That's about 58 centavos per gram or 41 percent more than the leading brand's implied selling price of 41 centavos per gram (Php155 for a can of 380 grams).
ADVERTISEMENT - CONTINUE READING BELOW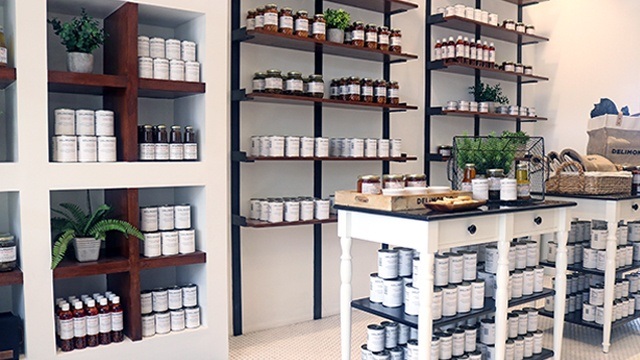 The Delimondo deli shop offers all of the products in the range, including pasta sauces, dips, and oils
Because it is pricier than the leading brand, Delimondo is often thought of as an imported product. "Being mistaken as imported was flattering of course, but I would want it to be made known that we're proudly local. We could be as good as the imported ones," Enrile said.
ADVERTISEMENT - CONTINUE READING BELOW
Since Delimondo began to be sold in some of the country's biggest supermarket and grocery chains, JAKA Food Processing's net income more than tripled to Php13.52 million in 2015 from only Php4.2 million in 2011. Delimondo now accounts for half of the company's revenue, exceeding its traditional income source: packaging and production for third-party clients.
"I wasn't surprised but I'm amazed and glad that they would go for quality," Enrile said about Delimondo's regular buyers. "I wasn't particularly targeting to hit anybody; I was just happy making my own market."
Though Delimondo's market remains niche, it's beginning to create a wider market impact. A competitor even introduced a new brand to just to compete with Delimondo.
A Deli of Its Own
After making the big jump from food fairs to groceries, Delimondo is making another giant move to a deli shop dedicated solely to the brand, a concept that has long been in the company's drawing board.
ADVERTISEMENT - CONTINUE READING BELOW
"Delimondo in itself is made from two words: 'deli' and 'mondo' or world. We want something with international flair but proudly local," Enrile said.
The shop is located just beside the Enriles' Petra and Pilar bar and restaurant in Makati. Delimondo previously had a stall inside the dining place but JAKA Food decided to set up a separate shop last year. The result is an intimate, quaint shop painted in the brand's colors of black and white.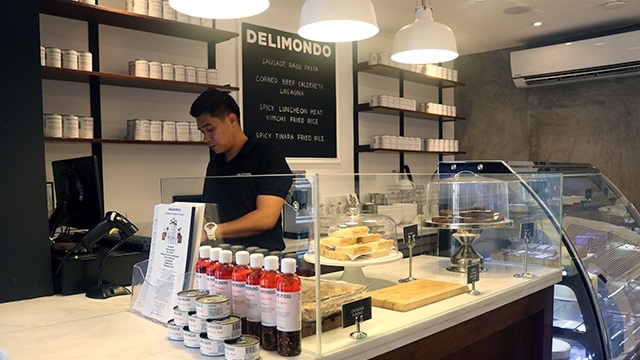 ADVERTISEMENT - CONTINUE READING BELOW
The Delimondo deli also has a cafe that serves dishes made from ingredients sold in the store
Its shelves are full of Delimondo's wide-array of products: luncheon meat, pasta sauces, dips and oils. It even has its own selection of sausages and meats. The in-house café serves dishes made from the ingredients sold in the store and some cakes baked in accordance with the Enriles' recipe books.
While the deli still remains on an extended "soft opening" phase, Enrile is already planning to bring the shop to various locations in the metro, particularly in exclusive villages and subdivisions. "An upgraded mom and pop if you will," she says of her vision for the deli.
Said Enrile: "I've always envisioned this: something small, something doable. Something that's not really huge, but intimate and it won't get you overwhelmed."
*****
Elyssa Christine Lopez is a staff writer of Entrepreneur PH 
ADVERTISEMENT - CONTINUE READING BELOW