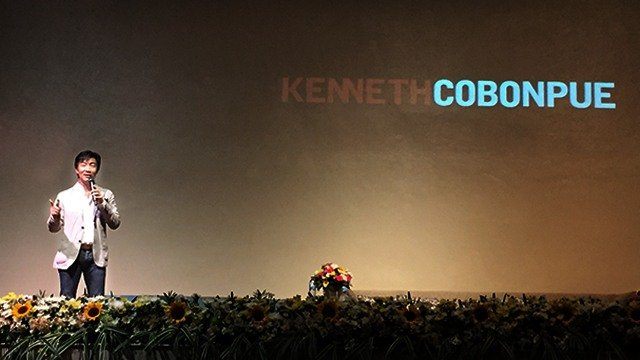 "If it weren't for this bed, I wouldn't be here," says Kenneth Cobonpue in a talk before youth and student entrepreneurs taking part in the Youth Entrepreneurship Boot Camp at the University of Asia and Pacific last month. "It takes Hollywood to be known even in your own land."
ADVERTISEMENT - CONTINUE READING BELOW
The boot camp was organized by the Center for Strategic Reforms of the Philippines and aims to encourage young people to set up their own businesses rather than seek corporate employment.
Cobonpue was talking about his Voyager bed, made from palm leaf spines and abaca, that became world-famous in 2010 and 2011 after Hollywood star Brad Pitt ordered one for him and Angelina Jolie (and a crib version for the couple's first biological child). The bed also attracted attention in Maroon 5's hit music video Never Gonna Leave This Bed, which featured lead singer Adam Levine and his girlfriend lying down in different beds.
A lucky break of that sort could leave other entrepreneurs simply cruising along from the momentum of instant fame. But not Cobonpue. Instead of resting on his laurels, he immediately set to work to come up with innovative designs to make his products harder to copy, especially after becoming world-famous.
ADVERTISEMENT - CONTINUE READING BELOW
Apart from rattan, Cobonpue went on to work with bright fabrics, this time looking at the patterns made in sweaters while emulating the graceful shapes of petals and leaves. The resulting Bloom collection was ultimately a hit, too, but underlying its success was a meticulous and tedious production process. "It's very difficult to make. I try to make things as difficult as possible so the Chinese can't copy it," he explains.
Today, Cobonpue's focus on constant innovation has paid off. By mixing local materials with handmade production techniques, his company has become a niche player in the $20-billion global luxury furniture industry. The company sells its unique products in over 60 countries through 100 retail showrooms.
In July 2016, Cobonpue and business partner Christoper Reiter were selected as "high-impact entrepreneurs" in the Philippines by Endeavor's international selection panel. Endeavor is an international organization that aims to mobilize entrepreneurs to improve societies. The panel chose Cobonpue and Reiter not only for their business acumen but also for developing and mentoring their staff and the next generation of entrepreneurs in their industry.
ADVERTISEMENT - CONTINUE READING BELOW
Though Cobonpue credits the Voyager bed for making him and his designs globally famous, the 48-year-old Pratt Institute graduate began the hard work of preparing the groundwork for sustained success more than a decade before.
Since he took over his family's furniture business in 1996, he insisted on selling his designs under his name—something that is quite uncommon in the Philippines. His mother, Betty Cobonpue, and other local furniture makers just sold their pieces to other well-known international companies which marketed them under global brands.
It wasn't surprising that Cobonpue broke with furniture industry's traditional business practice. Standing for originality and innovation, his furniture designs were art pieces in themselves. Many involved elaborate work on rattan or bamboo seamlessly bent and shaped into forms that mirror life and nature—from the human body to a boat.
"This is the first thing I learned in design: the world doesn't need another chair unless you make it truly unique. So in everything I do, I always do something different," Cobonpue said.
ADVERTISEMENT - CONTINUE READING BELOW
But innovation and originality didn't immediately bring success. The designer recalled how he didn't have any orders in the first two years after he launched his Kenneth Cobonpue brand. He even had to lay off some people.
But his persistence eventually paid off. His unique portfolio has already garnered him some of the biggest accolades in the world of design, including the grand prize at the Singapore International Design Competition, the Design for Asia Award of Hong Kong, the American Society of Interior Design Top Pick selection and the French Coup de Coeur award.
Some of the leading hotel brands in the world have also tapped his studio to be the brand of choice for the furniture in their hit locations. These days, Cobonpue pieces can be seen in Puerto Rico resorts as well as Greek hotels.
Having attained a degree of global fame and success, Cobonpue wants to help other furniture makers in the Philippines overcome the constraints and stigma associated with manufacturing in a poor, developing country.
ADVERTISEMENT - CONTINUE READING BELOW
"At least 90 percent of furniture makers in the Philippines still get sold under different names. It's like we are a factory," Cobonpue says. "And it's very difficult to sell something in the upper end of the market associated with the brand Philippines since they think it should be cheap, thinking that it's low-quality. So we always have to fight against that prejudice every day."
Though advocacy and communication play a big role in battling prejudice against Philippine-made products, Cobonpue's best weapons are his innovative designs and his workers' superior craftsmanship. To appreciate what this means, consider his La Luna chair. The piece takes around 48 hours of manual hand weaving of rattan and jute. Meanwhile, pieces from his Pigalle collection inspired by the shape of the female body, have 3,000 knots of abaca fiber.
Cobonpue has his factory of 350 craftsmen to thank for ensuring quality work that goes into each of his pieces. He says: "What I do is always a testament to Filipino craftsmanship. Not many young people do it now, but this is a tradition that we should be proud of. This is something passed on from one generation to another."
ADVERTISEMENT - CONTINUE READING BELOW
*****
Elyssa Christine Lopez is a staff writer of Entrepreneur PH.. Follow her on Twitter @elyssalopz