Becoming an entrepreneur is not just about shifting careers nor having a new time schedule. Entrepreneurship is, as we here at Entrepreneur.com.ph always say, a lifestyle.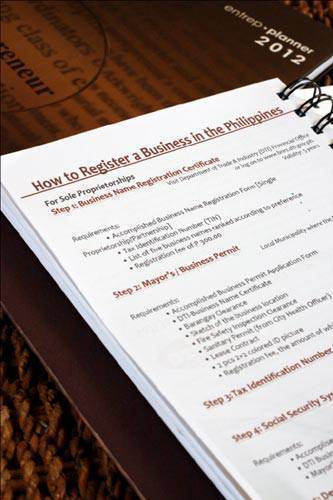 There is nothing more exciting than the prospect of becoming your own boss – controlling the time you go to work, the time you get off, or the time you just want to go out for a walk. But then, the success of your business all depends on you and how you manage your time will determine its success.

The Entrep Planner 2012 is designed as an entrepreneur's business ally. Entrep Planner is your spot on partner to ensure that tasks at hand are being addressed while still enjoying a sense of balance in your life.

The maiden issue, Entrep Planner 2011, proved to be a success. This year, the Entrep Planner 2012 is more exciting and engaging. It maintained the clean and organized monthly calendar and notes pages to aid ease in scheduling and notes-taking. It features an elastic cord to better organize your files. It also has special pages such as Tax Calendar and Steps to Register a Business to aid the needs of entrepreneurs.

Entrep Planner 2012 continues to highlight successful businesses and personalities to inspire aspiring and fellow entrepreneurs. The success stories of noted entrepreneurs, such as Socorro Ramos of National Bookstore, Lolita Hizon of Pampangga's Best, Dra. Rosalinda Ang-Hortaleza of HBC, and Bam Aquino of Hapinoy to name a few, will continue to fuel your desire and passion to thrive on your business.

Entrep Planner 2012 will be available at National Bookstore and Powerbooks starting this November.

Disclaimer: This planner is in no way connected to the Entrepreneur Philippines brand and its subsidiaries.


ADVERTISEMENT - CONTINUE READING BELOW