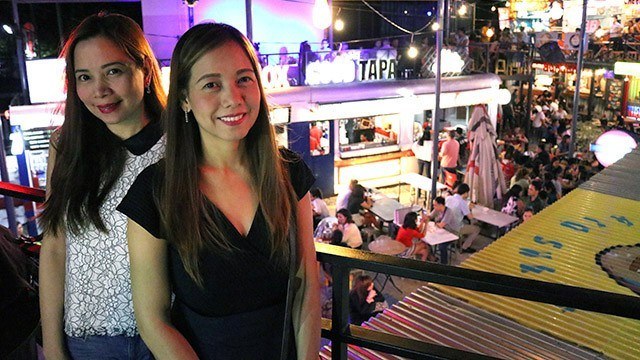 Cohleen Soriano-Ipapo and Hazel Soriano-Fariñas (and their other sister Bobbie Soriano) ran Fariñas Ilocos Empanada before they set up The Yard 
It's half past nine on a Tuesday evening, normally a slow night for dining places that don't serve alcoholic drinks. But The Yard Underground is teeming with hungry diners who have just gotten their end-of-month pay. It's exactly the kind of scene that brings delight—and relief—to the three Soriano sisters who own and run the food park that's located in a rather unseemly part of Pasig City.
ADVERTISEMENT - CONTINUE READING BELOW
Siblings Anne Barbara "Bobbie" Soriano, Cohleen Soriano-Ipapo and Hazel Soriano-Fariñas are no strangers to the food service industry. They co-founded and help run the highly popular Fariñas Ilocos Empanada chain of restaurants and food stalls. In addition, they also own and manage a food park in Quezon City called The Yard in Xavierville that they put up last year.
The three sisters' first food park was an instant hit despite its location in a relatively quiet residential neighborhood. There are now 32 unique food stalls inside redesigned 10-footer container vans stacked on top of each other. "We're the first multi-level food park in the country," Fariñas told Entrepreneur Philippines. "We also make sure to have unique food concepts. There's no duplication of stall ideas within the park."
They are betting the concept would work with their second food park, The Yard Underground, which is tucked away some distance from Pasig's Kapitolyo food district and right beside the city's motel district.
ADVERTISEMENT - CONTINUE READING BELOW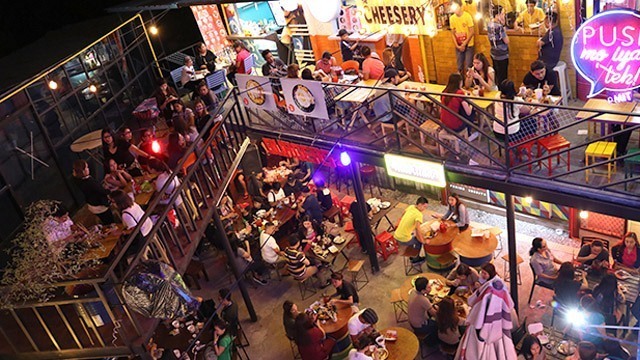 The Yard Underground has about 30 tenants, which is double the number of what other food parks have
Based on the new food park's performance since it opened in January, the sisters are quite pleased. Almost like the first branch in Xavierville, The Yard Underground's 32 tenants or food stalls is double the typical number in other food parks. "You wouldn't expect that people would come here, but there's a crowd and we really feel it's because they know and trust The Yard brand," Ipapo said.
ADVERTISEMENT - CONTINUE READING BELOW
The high occupancy rate and large crowds drawn to The Yard Underground are early signs that the Soriano sisters' efforts to distinguish their food park from the rest seem to be working. With the rise of food parks in Metro Manila, each dining destination's ability to set itself apart from the rest is a critical success factor.
"Since we know that the market is saturated, we work hard to protect the brand. We want to be the first thing that comes to mind when people think of food parks," Soriano said. "And like how we are in Fariñas, we always highlight quality food."
They're right to be concerned about market saturation. Based on Entrepreneur Philippines' tally, there are around 12 food parks in Quezon City alone. Meanwhile, at least three similar food destinations dot the Kapitolyo area in Pasig City, all within a kilometer of each other.
Fariñas adds the hard work to distinguish themselves from the others began even before they put up the food park itself. "We didn't put up a food park out of whim. The Yard was born out of heavy research. In fact, Bobbie even flew to Dubai and London just so she can experience and see for herself how food parks are run there," she said.
ADVERTISEMENT - CONTINUE READING BELOW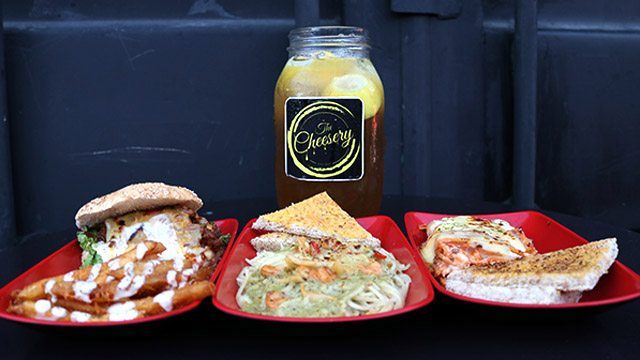 The Yard specializes in themed food  stalls offering unique and tasty dishes 
Three-Pronged Approach
One of the planks that the three sisters are using to build a unique and strong brand is the look and feel of the place as well as the food. "From the start we wanted to create a hip, youthful ambiance," Ipapo said. "The food had to be 'Instagrammable' without compromising taste," referring to the popular photo sharing app.
ADVERTISEMENT - CONTINUE READING BELOW
While other food parks simply house different stalls in wide-open spaces, The Yard's physical layout is based on an overarching theme. The Yard in Xavierville was designed to look like a typical residential yard while The Yard Underground was inspired by the look of London's subways. A third food park is in the works along Timog Avenue in Quezon City, which will sport a cinematic look.
"We always have to do something new and fresh so people won't get tired of the brand," Ipapo said. "We also tried our best not to bring in the same brands from Xavierville to Pasig. So for Underground, almost everything's new—save for at least three concepts."
The Yard's efforts to create a unique and enticing ambiance are working to attract tenants. Fatima Ventura, a co-owner of The Good Tapa, one of the food park's tenants in Pasig City, said she and her partner agreed to locate at The Yard in large part because of ambiance.
ADVERTISEMENT - CONTINUE READING BELOW
"What made us really say yes is the look of it. There are so many food parks now but The Yard's look is distinct from the rest," Ventura said. "Sometimes, you'd see that other food parks don't give as much thought to how they look unlike this one—it's so important to have a theme."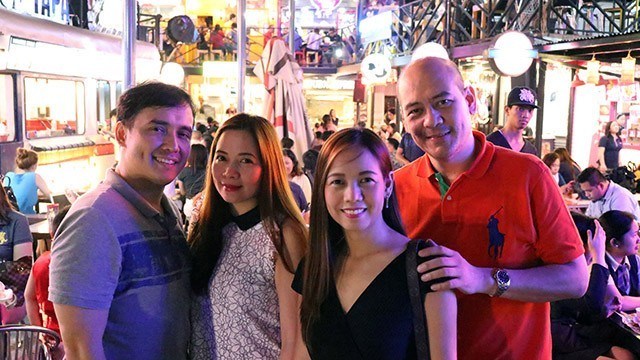 ADVERTISEMENT - CONTINUE READING BELOW
Helping Cohleen and Hazel run the business are their husbands Julius and Brian
The second plank is the good selection of tenants to ensure not only the uniqueness of the food concepts but also their high quality. The three sisters prefer owners who are directly involved in running their food stalls.
"We really had a stringent screening process. Out of all the hundreds that sent an application, we made sure that we chose tenants who were hands-on to the business and offered something unique and of quality," Fariñas said. "Because you can go viral because your food looks good, but if it's not appetizing then you'll close eventually."
In what could be considered The Yard's third plank, the three sisters provide mentoring for tenants to provide feedback and advice on the quality of their offerings and service.
"We give honest feedback to every tenant on how their food tastes. We're very transparent on what they can improve on," Anne Soriano said. "We also try to tell everyone that there's a price ceiling for their food. Since there are so many options available, it's important to have affordable but quality food."
ADVERTISEMENT - CONTINUE READING BELOW
For the sisters, mentoring is important for the tenants as much as for The Yard itself. "If a tenant thrives then the food park thrives too so it's a win-win situation," Ipapo said.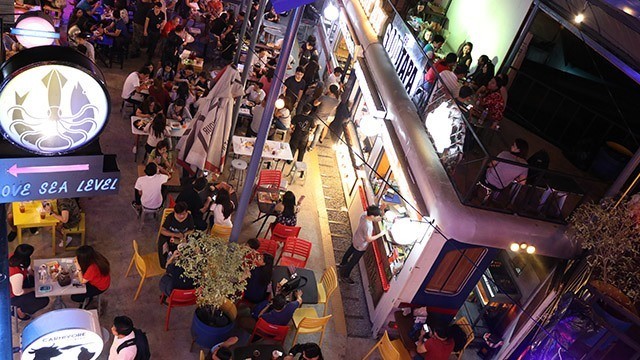 The Yard is the city's first multi-level food park
Leveraging the Fariñas brand
ADVERTISEMENT - CONTINUE READING BELOW
The sisters are co-founders and co-owners of the well-known Ilocano food stall and restaurant chain Fariñas Ilocos Empanada. Other investors and partners in the venture include their brother Marco Soriano, Hazel's husband Brian Fariñas and Cohleen's husband Julius Ipapo. The first branch was a seven-square-meter stall along Visayas Avenue in Quezon City established in 2011. Today, Fariñas has 20 branches, of which four are franchised.
The chain's success story is inspiring to The Yard's tenants, especially those owned by micro or small entrepreneurs. "We tell our tenants that we also started in a space as small as theirs. They're now operating in a 10-footer container van, or eight square meters. So if we could grow as huge as we are now from that, then they can, too," Hazel added.
While running a food park is wholly different from managing Fariñas Ilocos Empanada, the sisters still credit much of the Yard's success to the expertise and wisdom they have gained from running the dining chain.
ADVERTISEMENT - CONTINUE READING BELOW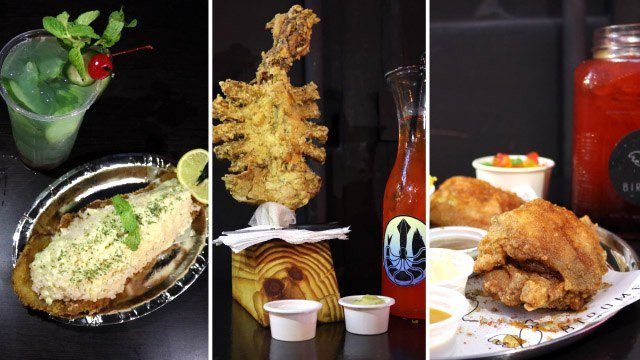 There's a variety of food concepts available at The Yard
"It's important to have strong branding and an organized business model from the start," Hazel said. "That's how we did it for Fariñas and look where we are now."
*****
Elyssa Christine Lopez is a staff writer of Entrepreneur PH. Follow her on Twitter @elyssalopz
ADVERTISEMENT - CONTINUE READING BELOW