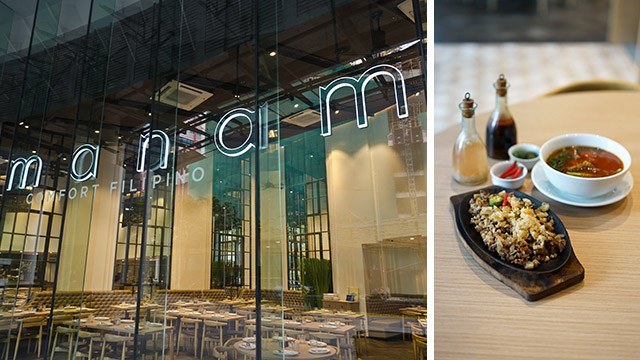 One of The Moment Group's original concepts is Manam, which serves modern Filipino cuisine
When The Moment Group (TMG) was founded in 2012, it opened almost one new restaurant every 45 days. It's a blazing fast rate of expansion for any food company outside, perhaps, of giant fast food brands like Jollibee or McDonald's. But TMG was a newbie, and its core market is premium casual, where each diner shells out between Php400 to Php500 for a meal. That made the restaurant group's rapid growth all the more remarkable.
ADVERTISEMENT - CONTINUE READING BELOW
Today, the company owns and operates 10 concepts, some with multiple branches, for a total of 27 outlets opened in just five years of existence. How did they do it?
If you ask the three founding partners—Abba Napa, Eliza Antonino and Jon Syjuco—it had a lot to do with near-perfect timing and intense wish fulfillment. Because what started out as a fun side project quickly escalated into a full-blown food service company thanks in large part to a thriving local dining scene and their own desire to build a multi-brand restaurant empire.
"In the middle of building the (first) restaurant, there were other restaurants opening beside us and that was when I think the three of us really started to look at what was going on," Antonino says. "I even remember one time we said like, 'Hey look at so-and-so and how many brands they have. Wouldn't it be exciting one day if our portfolio or even our new store opening will say 'The Moment Group and all these brands?'
ADVERTISEMENT - CONTINUE READING BELOW
"So there wasn't actually an intention but the dream was always there," she adds.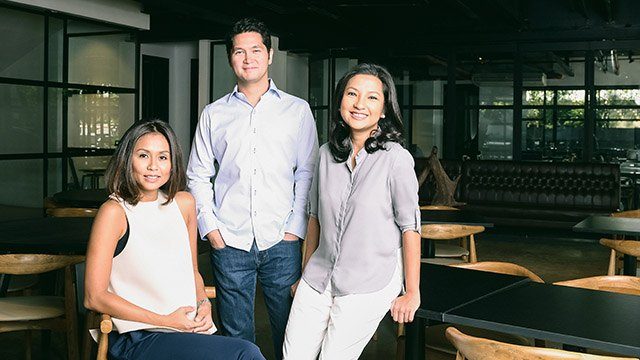 The co-founders of The Moment Group (from left): Abba Napa, Jon Syjuco and Eliza Antonino
It certainly helped that the Philippines is in the midst of steady economic growth resulting in an emerging middle class becoming increasingly more fastidious with their dining choices. Add the trio's individual experiences within the local hospitality industry, their own ideas for creative food concepts and a keen understanding of Filipinos' dining preferences and it all resulted in a perfect storm that led to faster-than-expected growth.
ADVERTISEMENT - CONTINUE READING BELOW
"I remember Jon and I were talking one evening," Napa says. "This was maybe Christmas of 2011. We hadn't opened any restaurant yet and he said, 'My god, the dining scene has really turned the corner.' There were so many new restaurants, so many new cuisines coming in. I remember thinking, 'Maybe we're a little bit late.' But we look back at that now that it's 2017, and we would've been really too late if we came in now. How we were able to grow quite fast relative to other (restaurant) groups is also in large part to the dynamics of the industry. It's like a rising tide to all ships. So it was luck and a fortunate time for us to have come in. It's also like destiny, if you want to romanticize it."
TMG's first restaurant was 'Cue Barbecue, an original concept that was located in High Street Central in Bonifacio Global City. It was closed last year to give way to Ooma, one of their other concepts that the trio says is doing much more brisk business. The group's other brands include 8Cuts Burger Blends, Manam Comfort Filipino, Bank Bar, Mecha Uma (a partnership with celebrity chef Bruce Ricketts), as well as franchise brands Phat Pho, Linguini Fini and Din Tai Fung. After they moved to their new headquarters at Pasong Tamo in Makati City, the company also opened a private dining space called The TMG Test Kitchen, and a no-frills cafeteria-style Mess Hall that serves items you'd find in other TMG restaurants.
ADVERTISEMENT - CONTINUE READING BELOW
"What all of us like to do at Moment is to not just create things that the Filipino diner wants and needs but something he doesn't know he wants yet," Napa says. "And I think those are the most exciting things to create. There's still so much opportunity for that even today that it's already grown so much."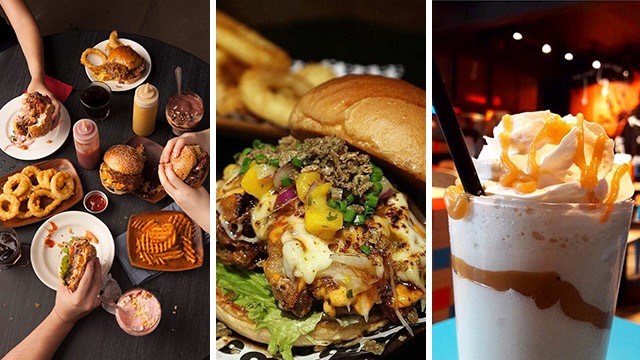 ADVERTISEMENT - CONTINUE READING BELOW
8Cuts Burger Bar serves tasty burgers, milkshakes and other Western favorites
Napa says most of TMG's brands are in the premium casual category because it's where they believe the new Filipino diner is at and it's where he or she is willing to spend. But the group is also looking to expand into other price tiers. They've already started experimenting in this regard with Manam Express, which is located in mall food courts and which offers a typical Filipino meal comprising of an ulam or meat dish, a vegetable dish, rice, sabaw or soup and a glass of iced tea for as little as Php149.
"Jon (Syjuco)'s always finding interesting spaces and pieces of real estate that allow us to dream about creating brands for different price points," Napa says. "That's something we're very interested in now. A renewed philosophy of ours is to create dining experiences for as many Filipinos as possible."
ADVERTISEMENT - CONTINUE READING BELOW
Following this philosophy, the company will soon open TMG-branded concepts in cities elsewhere in the Philippines and possibly outside the country. Syjuco says they have identified four of their brands that are scalable—8Cuts, Manam, Ooma, "and then of course there's a huge demand for Din Tai Fung."
While winning the local franchise for Din Tai Fung—a five-time Michelin-star awarded brand originally from Taiwan—was a coup for TMG, Syjuco says the company's strategic direction in terms of expansion is clear. "It's more towards our own homegrown (brands)," he says. "For as much as there is brand equity from concepts abroad, we feel that, as local operators and as consumers ourselves, we know our market best. We're ready to come up with concepts best suited for the local market more than from abroad and we feel that this is more of a sustainable approach and hopefully more successful."
ADVERTISEMENT - CONTINUE READING BELOW
"Now we think harder about what it is we're going to bring in if it's not going to be something we created ourselves," Napa adds. "There are a few more (international brands) here and there that are superbly interesting to us that could be a fit for the market. But it's really important that we feel that the Filipino diner will like it and that we have a great relationship with the owners. Beyond that, it's so much more fun to create your own brands. I think it's so much more valuable, the ability to take them to other countries is so much more exciting to us than bringing a brand inside."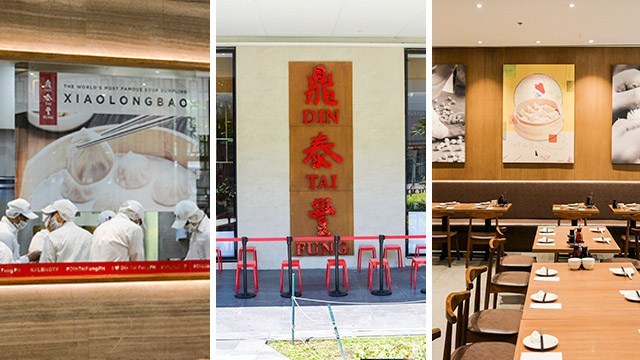 ADVERTISEMENT - CONTINUE READING BELOW
Din Tai Fung is originally from Taiwan whose Hong Kong branch has won multiple Michelin stars. Its entry in the Philippines was made possible through TMG
For other restaurant groups, expansion could also come in the way of acquiring existing brands and concepts, but for TMG, this isn't an immediate priority. "We don't feel the pressure of acquiring just to acquire," says Antonino. "But if there is an opportunity for a brand that we admire and love like other international brands we've been looking at, why not? But it's not a conscious direction that we're trying to talk to people."
The strength of TMG brands has naturally attracted the attention not just of potential investors but franchisees eager to get in on the action and share in their success. While the company has been aggressive about growing their own footprint, Napa says they're a bit more cautious about expanding through the franchise route, revealing that they've had to turn down the people who have expressed interest primarily because they feel the company isn't ready to support them yet. But that might soon change, especially after the company slowed down with opening new branches in 2016, moved into their new office and started to take stock of what they've accomplished.
ADVERTISEMENT - CONTINUE READING BELOW
"It's not fun to have franchises that you can't support," she says. "I think the move is allowing us to finally really engage with the people who want to partner with us and franchise with us outside Metro Manila. It should make for an exciting year."
*****
Paul John Caña is the managing editor of Entrepreneur PH