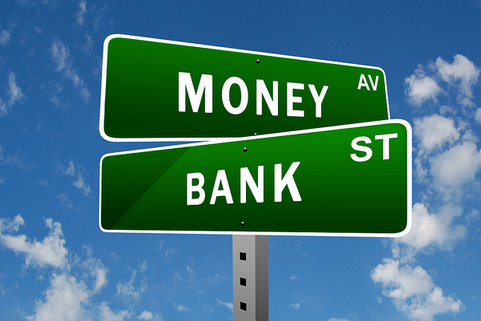 It's a great time to get a loan from banks big and small, as well as 'money bodies' like cooperatives and microfinance institutions. Realizing the power (and quantity) of small and medium enterprises—not to mention the millions of people itching to start their own venture—more banks are offering business loans and making it easier for entrepreneurs to get them. Some local banks even have loan products targeting people interested in franchising a business.

But just because it's there for the taking doesn't mean you can just waltz into any bank and come out with the bag of cash you need for your enterprise. Getting a loan is a serious business transaction, so it pays to know what you're getting into. Thanks to advice from financial services consultants Justin Pritchard and Isabel M. Isidro, here are a few "Be" marks to set you on the right path:

Be prepared, and dress for success.
Show your would-be lenders that lending to you is not much of a risk. It starts with the clothes you wear; look professional and business-like, and treat it like a job interview. Apart from your loan application (and a good cover letter), bring documents showing your cash flow and your financial statement projections for at least three years; you will need an accountant's help for these papers.
ADVERTISEMENT - CONTINUE READING BELOW


Be not afraid to ask for a loan—banks are in the business of lending money, not just keeping it.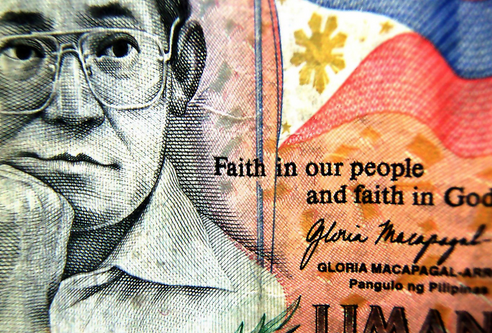 Improve your chances of getting a loan by finding a bank that knows your industry and has clients from businesses like your own. Some banks are more active in lending to small businesses than others, but all will ask for some form of collateral for start-ups like yours.
ADVERTISEMENT - CONTINUE READING BELOW


Be ready for any question from the loan officer.
Anticipating a loan officer's questions (by practicing them with a friend or business partner) will help you be more confident and prepared—and thus more likely to secure the loan. You can even indicate your answers to these probable questions in your business plan.


Be positive.
Don't think the loan officer will reject your application outright, just because it's your first time to ask for a bank loan. Show the officer you are an entrepreneur that can and will repay the loan; add proof by presenting any news or magazine articles about your business, as well as ads, brochures, and other promotional material you have.


Be truthful, and neat.
Don't inflate the values of any assets (or collateral) you have, nor the income you're making at present. Remember that the bank will tap credit investigators to check all details you put down in your application form, and loan officers will examine every figure in your cash flow and financial projections. And because your documents will be scrutinized, have them typewritten and arranged cohesively and attractively. (Why? See "Be prepared" above.)
ADVERTISEMENT - CONTINUE READING BELOW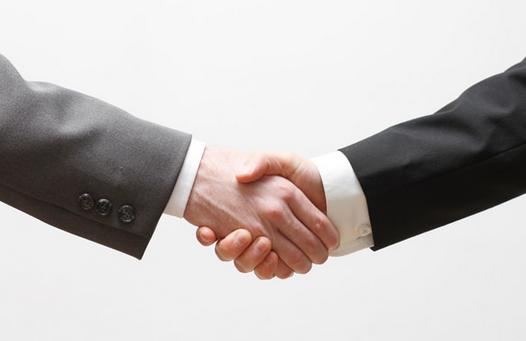 Be confident, but not pushy.
Showing confidence and belief that you can make money from your bank's loan adds to your chances of getting the deal. Don't ask a loan officer for a decision right away; your application might end up being rejected instead. To speed up their decision-making, make your documents as complete as possible.
ADVERTISEMENT - CONTINUE READING BELOW


Be mindful of the risks.
Loan applicants and startups usually forget this when they ask for loans: every business faces the risk of losing money (or even shutting down). If you don't talk about the probable risks to your business, the loan officer will think you have not considered it. You have to tell the bank how exactly you will manage these risks. Even success is a risk to a business; your loan officer will want to know how you'll handle that as well.


Be persistent.
That is, if your first loan application gets denied, keep trying with other banks and lenders. Ask a friend who's successful in business to refer you to his or her bank; loan officers often deal better with those referred by their best customers.


Be aware: the first loan is often the toughest to earn.
Banks favor borrowers who have loaned and repaid at least one loan on time, because it gives them a good track record to start with. Even though your business turns out to be a low-risk, low-profit enterprise, banks prefer lending to you more than to high-risk ventures with no profit records. So go ahead, ask your bank for a loan—you might just get it, easily.
ADVERTISEMENT - CONTINUE READING BELOW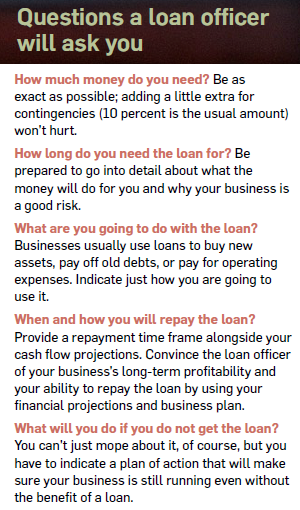 Images from Flickr (Jun Acullador and 401(K) 2012)
This article was originally published in the April 2012 issue of Entrepreneur magazine. Subscribe to the print or digital version here.