The best kind of a refrigerator magnet would be a themed ones that comes with a clip or clamp so that it will be functional as well as decorative.

Materials needed:    

•    Magnet, P30 to P60 depending on the size and style
•    Theme or background material like clothes, pin, clip, or clamp, P7 per    pack   
•    Scissors   
•    Glue, P22   
•    Beads, plastic flowers, other accents P50 per pack
Step 1: Pick a theme
Decide on a theme or background for your magnet, like a Christmas tree or a favorite type of food. You may either make your own background by drawing it on paper or on a computer or cut it out.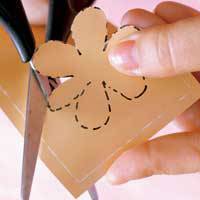 ADVERTISEMENT - CONTINUE READING BELOW

Step 2: Start gluing
After choosing a background, carefully glue it on anything sturdy, like cardboard. Spruce up your design with additional color, sparkles, feathers, glitter, etc., or draw in additional details with markers.