Resort owners prize bamboo furniture for giving their establishments a natural touch and pleasantly rustic look. This attribute of bamboo furniture also makes it a highly viable and sellable product in export fairs and trade fairs.
According to Elvin-Dimasu-ay, technical education specialist and in charge of the bamboo section of the Department of Trade and Industry's Cottage of Industry Technology Center (CITC-DTI), you can go into the making of Japanese bamboo armchairs with an investment of P20,000 to P40,000 for tools and equipment and another P1,900 for materials. For startups, though, it is best to first test the waters by just buying alternative tools and equipment. This can bring the startup costs down to about P21,000. You also have the option of just renting all the equipment you need form the CITC-DTI office in Marikina City.
Commercially, this Japanese bamboo armchairs sells for P5,000 per set, inclusive of a sofa, a center table, and another armchair.
ADVERTISEMENT - CONTINUE READING BELOW
MATERIALS NEEDED:
Bamboo, per 10 ft to 12 ft, P40 for provincial rate, P120 for Metro Manila rate
Plywood, per 1.2 m by 2.4 m, P380
5-mm split rattan (rattan rope), P180 per bundle
4 pcs 3-mm split rattan, P1.60 per 1.5 m
Varnish, P134.75 per liter
Sanding sealer, P300 per gallon
PVC glue, P100 per liter
Boric acid, P75 per kilo
Borax, P75 per kilo
20 liters tap water
Sand paper, P9.95
Pencil or any marker
Tape measure
EQUIPMENT AND TOOLS NEEDED:
CITC-DTI-fabricated pole cutter,P40,000; for rent at P25 per hour. Alternative: 22-inch saw, P329.75
CITC-DTI-fabricated treatment vat, P20,000. Alternative: metal drum, P100
CITC-DTI fabricated bamboo scraper, P400. Alternative: bolo, P279.75
CITC-DTI fabricated hand-splitter, P400 per blade
Bench drill, P14,000; for rent at P8 per hour. Alternative: 600-watt hand drill, P7,000
Air compressor, P6,000 to P7,000; for rent at P10 per hour
Hole saw, P9,000 per set, P400 per piece
Dowelling gadget
Pneumatic kneeler, P3,000
Varnish spray, P3,000 to P10,000
Hammer, P360
In making Japanese-style bamboo armchairs, two kinds of bamboo are used: the kauayang tinik (Bambusa blumeana Schultes F.), which has thorns; and bayog (Bambusa sp.), which is a more solid bamboo, with a narrower hollow inside it. It is hairy because there are roots in its nodes and it has shorter internodes. You will need two 12-ft kauayang tinik poles and one 10-ft or 12-ft bayog pole.
Only mature bamboo of three years or more should be used. As much as possible, use stain-free and scratch-free bamboo.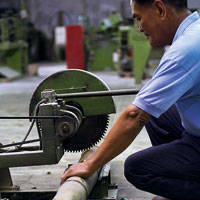 PROCEDURE
ADVERTISEMENT - CONTINUE READING BELOW
Step 1. After selecting the good bamboo poles, use a saw or bamboo pole cutter to cut them to size as specified  below:
Primary parts: 9 pcs kauayang tibik, 80cm long x 10cm diameter
Secondary parts: 3 pcs bayog, 80cm long x 4cm diameter
Tertiary parts:
            4 pcs bayog dowels, 40.5 cm long x 4 cm diameter
            2 pcs bayog dowels, 20.3 cm long x 4 cm diameter
            4 pcs bayog dowels, 15.2 cm long x 1 cm diameter
            30 pcs kauayang tinik split, 15 inches long x 1 inch wide
            6 pcs bayog splits, 15 inches long
            18 pcs woven rattan, 14 cm wide
            18 pcs plywood (round), 10 cm diameter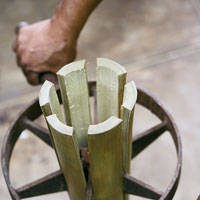 The 15.2 cm-long dowels are made of mature bayog poles. To make a dowel, split a bayog pole into six using a CITC-fabricated hand-splitter. Do the same for the bayog and kauayang tinik splits. Get one bayog split and a dowelling gadget clutched by pliers. Then, using a mallet, pound the bayog split into the dowelling gadget until you get the desired dowel.
ADVERTISEMENT - CONTINUE READING BELOW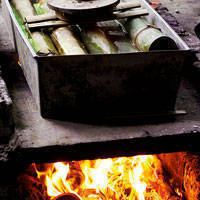 Step 2. Treat the bamboo poles so they won't rot. To do this, mix a kilo of boric acid into a kilo of borax, get 1 kg of that mixture and mix it in 20 liters of water over medium heat. Soak the pole into the mixture and allow them to simmer for an hour; don't let the mixture boil as this will make the chemicals evaporate. You may use a CITC-fabricated treatment vat made of stainless steel that can hold 12 pieces of bamboo. (If your budget is limited, use as your vat a metal drum that has been cut lengthwise. A disadvantage here is that metal drums react with the mixture and corrode easily.)
ADVERTISEMENT - CONTINUE READING BELOW