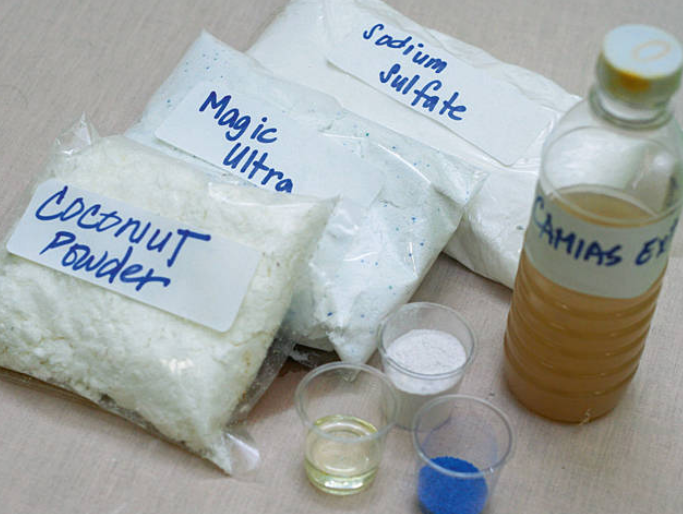 Biodegradable detergent powder uses all-natural products that are mild to the skin and clothes and, in addition, are eco-friendly. In contrast, commercial detergent powder contains chemicals such as optical brighteners, dyes, and artificial fragrances that can sometimes irritate the skin.
[related|post]According to Leng Aveno, lecturer in soap-making at ESF Cakes and Bread House, the market demand biodegradable detergent powder is high because consumers are looking for eco-friendly alternative products that can give a comparable cleaning performance. With a capital of as little as O700, you can start your own biodegradable detergent powder business to meet this market demand.
ADVERTISEMENT - CONTINUE READING BELOW
You only need to purchase the following materials:
• 1 kilo sodium sulfate
• 200 g coconut powder
• 6 ml bilimbi fruit (kamias) extract
• 10 g blue speckles
• 120 ml fragrance (kalamansi scent)
• 5 g sodiumtripolyphospate (STPP)
Most of the materials for the detergent-making powder are available locally
Most of the materials needed to make biodegradable detergent powder are imported from Malaysia, China, and India. However, you can also buy them locally from soap-suppliers stores in Divisoria, Manila. Magic Ultra is available from ESF Cakes and Bread House.
ADVERTISEMENT - CONTINUE READING BELOW
You can produce the kamias extract by fermenting 1 kilo of the bilimbi fruit in a jar with 2 tablespoons of salt. After 24 hours, get the extract, strain it, then transfer it to another container. It will be then ready for use.