According to Myra Rose Menor, livelihood trainer at Ultima Entrepinoy Forum Center, you can actually make a hundred percent net profit on your initial investment if your kitchen already has a pressure cooker and the basic food preparation utensils.
You can target as your initial customers housewives and office workers looking for alternatives to meat-based meals. Later, after you have mastered the production process, you can supply sari-sari and grocery stores, cafeterias, and eateries.

 
A. BOTTLED SARDINES IN CORN OIL
INGREDIENTS and price estimates:
1 kilo fish in season (tawilis), P100/kg
6 to 7 pieces laurel or bay leaf, P10/10g
60 to 70 pcs. peppercorn, P10/30g
6 to 7 pcs. red pepper (siling labuyo), P15/7.5g
1 pc whole carrot, sliced thinly, P15/pc,
1 pc whole pickle, sliced thinly, P42/225gbottle (contains 8 pcs)
1 liter corn oil (cholesterol free), P100/1L
Soaking solution (brine)
1/4 cup salt
2 cups water
EQUIPMENT/UTENSILS:
Pressure cooker
8 oz. bottles with brand new caps (required to attain a two-year shelf life)
Cups
Measuring spoons
Knife
Spatula
Chopping board
Plastic bowl or basin
Strainer
Cooking mittens or potholder
PROCEDURE: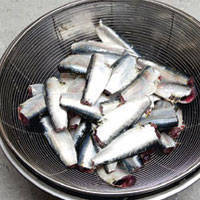 Step 1. Remove or cut the head, tails, fins, and internal organs of each fish, then wash them.
Step 2. Dissolve the 1/4 cup of salt in 2 cups water to make 10 percent salt solution (brine). Stir.
Step 3. To preserve the fish, soak them in the salt solution for 15 minutes. This will wash out the blood and fishy odor. Drain afterwards.
Step 4. While the fish is still soaking in brine, sterilize the bottles. There are two ways to do this:
ADVERTISEMENT - CONTINUE READING BELOW
a. Wash them thoroughly. Let dry. Then put the bottles inside the oven at 100 degrees Centigrade for 5-10 minutes.
b. Wash them thoroughly. Put them in a casserole and let boil. Then let dry.