Especially with the upcoming May elections, button pins make excellent campaign materials. But even minus the election fever, a growing market has been riding on the button pin wave, such as graphic artists and teenagers that use them as accessories. They also serve as affordable gift items, sometimes with mirrors or pins as their back covers.
Aside from its market potential, the button pin business can be launched with ease because of minimal cash outlay, plus it doesn\\\'t require you to lease any commercial space. The button pin press set and 2.25" mold costs P11,000, while the 2.25" desktop cutter costs P6,000.


The typical size for a button pin is 2.25" but, if one would want to offer other sizes, other molds are available from P4,000 to P6,000. These molds are made from heavy duty solid stainless metal. Setting up this business also requires a computer and a printer.
Materials:
Button pin press
Button pin set including metal plate, mylar film and back cover that can be either bottle opener with magnet, P10.50/pc, pin badge, P4/pc, mirror keychain, P10.50/pc, or clip badge, P6/pc
Inkjet paper, P150/100pcs
ADVERTISEMENT - CONTINUE READING BELOW
Procedure: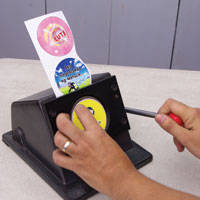 Step 1: Print the images to be made into button pins on inkjet paper. Cut the images manually using scissors or using a desktop cutter. Set aside the cut images.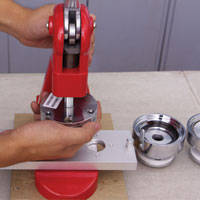 Step 2: Assemble the machine. Place your preferred size of mold. For this project, use 2.5". Make sure the parts are attached correctly.

Each mold has three parts, the upper part used for pressing and the other two parts to be placed on the left and right side of the machine. The one with excess vertical steel should go to the left side, while the one with a black plastic ring on top should go to the right.
ADVERTISEMENT - CONTINUE READING BELOW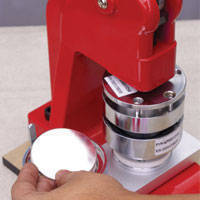 Step 3: Once the machine is properly assembled, get the metal plate and place it on the mold at the left. Place the printed image at a 12 o\\\'clock angle on top of it, then affix the mylar film. Press the button maker.