Candy bouquets are a new take on the candies and flowers we normally give as gifts or tokens to friends and loved ones. And it can be a good sideline business, too, especially on Valentine\\\'s Day, Mother\\\'s Day and other occasions. 
Candy bouquets are also hot items for sale in online stores, so check out the Web to earn dollars from retail websites selling padala items.
Jhoanna Gan-So, president and head of research and design at Businessmaker Academy, says candy bouquet making is a good complement business to gift basket making, selling baked goodies and sweets, and doing balloon arrangements.
MATERIALS AND APPROXIMATE PRICES: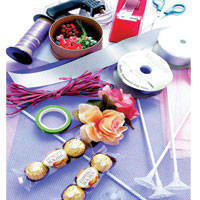 ADVERTISEMENT - CONTINUE READING BELOW
a pair of scissors
measuring tape
mini glue gun
1 mini glue stick (P2.46)
7 pieces of chocolates (preferably the Ferrero Rocher brand) (P14.67 each)
7 balloon sticks and caps (P2.75 each set)
1 flower accent (P10 each)
7 flowerets (P3 for a bunch of 5)
curling ribbon (11/3-yard long)
0.65 yard ribbons (one-inch wide) (P10.50 per yard)
a bow (P11.75)
floral tape (3.5-yard long, size 12mm x 33m) (P40 per 33-meter roll)
2 sheets of non-woven wrapper (P16.50 per sheet, which can make 22 pieces)
scotch tape (18mm x 25m) (P7 per roll)