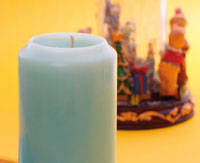 Candles are the perfect home accessory—they not only look elegant, but are also useful in brightening
up or creating a cozy atmosphere in any room. And with the number of styles and varieties you can make, these products are always in season.
[related|post]Materials needed:
Heat source (electric or stove)

Heating containers

Oven thermometer

Pouring and stirring containers

Towels and old newspapers

Shaped mold, P500. You can also use old cans or jars, as long as the bottom is not larger than the top so that you can easily remove your candle

Dipping tanks, P1,000 (optional)

10 kg or more of candle wax (beeswax, palm wax, paraffin wax, etc.), P1,000

Wick, P60

Optional ingredients:

Colored dye or chips, P250

Separator (i.e. petroleum jelly, cooking oil, liquid soap), P100

Perfume/potpourri oils, P225

Ingredients can be purchased in a craft, hobby, or grocery store.

Dyes and scents can also be bought from chemical retailers.
Getting started:
ADVERTISEMENT - CONTINUE READING BELOW
1. Place all your equipment in a large and open area, preferably near your kitchen or heating source so the wax stays hot before pouring. Line the workspace with old newspapers. This makes clean up easier and faster.