Looking for a fun and profitable project to do at home? Consider making lamps--functional and decorative items that you can sell to friends and relatives, rent out to party planners for theme weddings or children\\\'s parties, consign to bazaars and boutiques, or even sell through e-commerce sites.
Lamps are an attractive alternative to the usual centerpieces since the design becomes even more eye-catching once you turn the light on. Don\\\'t let all the electrical equipment scare you--this one is very easy to make.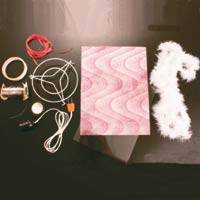 MATERIALS NEEDED:
ADVERTISEMENT - CONTINUE READING BELOW
lamp mechanism
socket, P20
flat wire, P10 per meter
plug, P18
25-watt bulb, P35
switch, P35 to P50 depending on the brand
cooking pot trays as lamp frame, P15 each 
lamp cover
acetate, P5 per piece
ribbon
wire
handmade paper, P25
a pair of scissors, P50
ruler
pencil, P6
pliers with wire cutter, P150
cutter, P50
one-hole punch
double-sided tape, P45
accent materials such as fake fur
These materials are available at your local bookstore, crafts store, electrical shop and hardware store. You may also use beads, sequins, fur trimmings, leather, fabric, abaca cloth and other materials as accent. In fact, you may also use recycled materials like old fabric or leather from a worn-out bag or chair. 
You\\\'ll need P3,000 to P5,000 to make 25 to 50 pieces of handmade lamps--and perhaps a little extra to cover your mistakes while perfecting your craft.
PROCEDURE: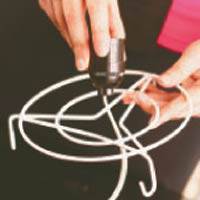 ADVERTISEMENT - CONTINUE READING BELOW
Step 1: Ask someone from the electrical or hardware store to assemble the socket, flat wire, plug, and switch (optional but recommended, and you may have to pay a minimal fee). Next, place the light mechanism in the middle of the pot tray and then attach it using wire. Set aside.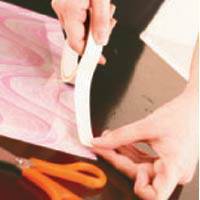 ADVERTISEMENT - CONTINUE READING BELOW
Step 2: Cut the handmade paper as well as the acetate to measure 9.25 inches by 12.75 inches, and four strips of wire (two pieces measuring 9.25 inches long, and two pieces measuring 12.75 inches long). Using double-sided tape, attach the acetate to the back of the handmade paper. Next, tape the wires unto the acetate, making two horizontal and two vertical lines.