The market demand for fabric softener is steady because they are used in large quantities every day, and you can supply hotels with this consumable product. 
Word-of-mouth is the best marketing strategy for your products, so let the product speak for itself by giving trial packs to your potential clients. You can also give trial packs as gifts to friends, neighbors, and relatives, whom you can then ask for referrals.
The strongest selling point for your products, of course, is the fact that they are not only of high quality but are also cheaper than their commercial counterparts.
Lilia Agulto, trainer at the Cottage Industry Technology Center teaches us how to make fabric softener at home.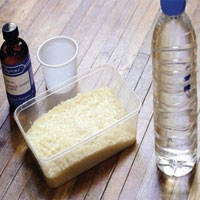 RAW MATERIALS:
* These can usually be purchased in minimum quantities of half a kilogram or half a liter.
ADVERTISEMENT - CONTINUE READING BELOW
250 grams fabric softener flakes (P114 per 500 grams)
2 liters + 1 liter distilled or de-ionized water (14.19 per liter)
10 ml ethyl alcohol (P54.50 per 500 ml)
10 ml downy fragrance (P275.04 per 500 ml)
TOOLS AND EQUIPMENT:
wooden or plastic ladle (sandok), about P35
medium-sized basin (stainless steel or plastic), about P41
kitchen scale, about P88
measuring spoons and cups, about P120
gas stove
cooking pot
330 ml PET bottles (available at Cachetrade in Cubao, Quezon City)