<>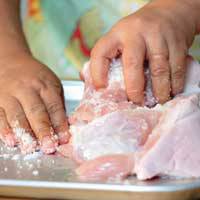 Step 7: Mix the ingredients for the dry cure. Rub the dry cure mixture on the meat, starting from its fatty portion all the way to the lean portion. Afterwards, wrap the ham with the paperlyne or cut wrap. The actual curing process now starts--you can cure the ham either at room temperature (typically 71 to 83 degrees Fahrenheit, or 22 to 28 degrees Celsius) for 8 to 10 hours or inside the refrigerator (35 and 38 degrees F, or 1.7 to 3.3 degrees C) for 5 to 15 days.
ADVERTISEMENT - CONTINUE READING BELOW
Step 8: After curing, wash the ham thoroughly with running water for two minutes to remove the excess pickle. Drain it and make sure to wash the excess pickle and dry cure away.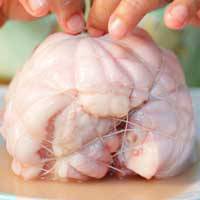 Step 9: Get the cotton thread or the ham net, and tightly tie the ham to shape it. Set aside.
ADVERTISEMENT - CONTINUE READING BELOW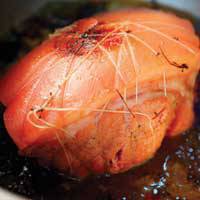 Step 10. In a casserole, put the pineapple juice, brown sugar, anisado wine, bay leaves, and oregano. Put the ham into the mixture and simmer for 1.5 hours or until meat is tender. You'll know when the meat is tender enough when its skin could be peeled off easily.
Step 11. Once the meat is tender, take it off the stove, and cut and remove the thread. Peel off the skin while the meat is hot. Peeling the skin when the meat has cooled would take more effort.
ADVERTISEMENT - CONTINUE READING BELOW
Step 12. By this time, the color of your ham would still be light. To brown the ham, you need to caramelize it. There are several methods of caramelizing ham: using a blowtorch, broiling it in an oven for 20 minutes, using a turbo-cooker, or pouring hot syrup over the fat portion. For the first three methods, you just need to rub brown sugar on the fat portion and then proceed to caramelize it.