<>
PROCEDURE: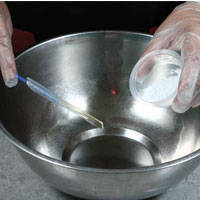 Step 1:
Prepare the curing mix by dissolving the ingredients in chilled water. Once dissolved, pour it onto the meat. Mix continuously until tacky. Set aside.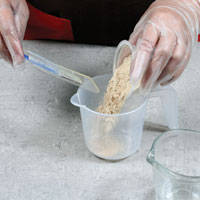 Step 2: Soak the TVP in 1/4 cup chilled water for 3 minutes. You\\\'ll notice that the TVP softens as it absorbs the water. Then, add the carageenan and the isolate. Mix well and also set aside.
ADVERTISEMENT - CONTINUE READING BELOW
Step 3: Prepare the seasonings and mix all the ingredients in a bowl. Set aside.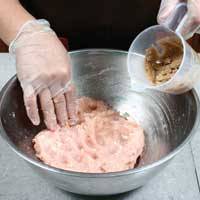 Step 4: Add the extender to the cured meat, mixing continuously until well blended.
Step 5: Afterwards, transfer this mixture to the bowl containing the seasonings. Knead the meat until all seasonings are well blended in.Once all the ingredients are well blended into the meat, cure it for 8 to 10 hours at room temperature or for 8 to 12 hours if refrigerated.
ADVERTISEMENT - CONTINUE READING BELOW