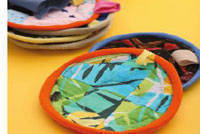 <>Step 2. Layer the fabric together, with the back piece wrong side up, your padding material on top of that, and finally, the front piece right side up. Carefully, pin the three pieces together.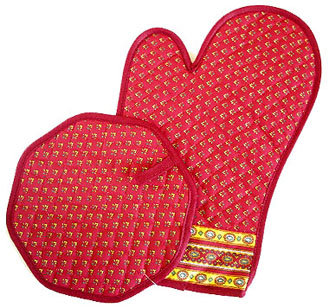 Step 3. Sew the three pieces together. "Quilt" the stacked layers together, sewing parallel rows of straight stitching about 1 inch apart across the square. Turn the square 90 degrees and stitch parallel rows again at right angles to the first lines of stitching, forming an all over quilted square pattern. Or, if desired, stitch diagonally to make quilted diamond shapes.
ADVERTISEMENT - CONTINUE READING BELOW
 Step 4. Once the square is quilted, trim the edges as necessary, using a ruler and a pencil to form an even square. Or, for a round potholder, center an 8-inch plate on the quilted square and trace around it, carefully cutting off the marked corners.
 Step 5. Finish the edges of the potholder with pre-folded bias tape. Starting at a corner, place the slightly wider side of the bias tape along the bottom edge of the pot holder, and fold the narrower side over the raw edges of the fabric.
 Step 6. Be careful easing the tape around the corners of the pot holder, making sure not to overstretch the tape around corners or curves. Pin the tape into place as you go. At the end of the pot holder, leave 2.5 inches of extra tape.
 Step 7. Beginning at the starting corner of the tape, stitch carefully over the thick-side of the tape, as close to the inside edge as possible. At the end of the pot holder, use the extra 2.5 inches to make a loop for hanging the holder. Continue stitching all along the extra tape, and then double the tape back and stitch its end to the edge of the potholder a few times for durability. The loop should lie at the corner of the pot holder.


ADVERTISEMENT - CONTINUE READING BELOW