The current movement for healthy eating has led many to be sparing in their meat consumption. But for a meat lover, days or weeks without beef or pork in his diet is unthinkable. What will happen to kiddie parties without Filipino-style spaghetti or to the many family celebrations without the common favorite menudo?

With soy-based fake meat or simply soy meat, however, there's no need to miss out on the familiar and delicious flavor of these dishes.
Soy meat is not really a new product in the food industry. In fact, a lot of processed meat products in the market, like hotdog and meat loaf, have been using soy meat for a long time now, says Esperanza Garcia, nutritionist and trainer at the Ultima Entrepinoy Forum Center in Quezon City.


Being a by-product of the extraction of soybean oil from soy flour, soy meat is low in fat and rich in protein and fiber. And dried soy meat can be cooked just like meat, but it needs to be briefly soaked or boiled and cut into pieces as desired.


ADVERTISEMENT - CONTINUE READING BELOW
If properly seasoned, it could actually replace meat in many dishes like kare-kare, afritada, siomai, barbecue, siopao filling, and a lot more. It makes the dish healthier and more cost-effective as well.


For this project, we will make menudo using soy meat. The use of soy meat for this dish cuts cooking time significantly.
Ingredients
• 200 g soy meat (Magic Meat), P60
• 6 1/2 cups water
• 1/4 cup (60ml) cooking oil, P5
• 3 tablespoons (22.6g) minced garlic, P3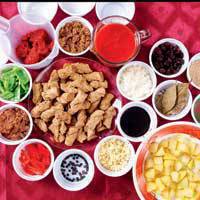 • 2 bulbs chopped white onions, P5
• 70 g tomato paste, P7 (P20 per 200g)
• 250 ml tomato sauce, P16.5
ADVERTISEMENT - CONTINUE READING BELOW
• 2 tablespoons (30ml) Worcestershire sauce,          
• 1/4 cup (50.3g) brown sugar, P1.50
    (P29 per kg)
• 1 tablespoon (12g) white sugar, P0.50
    (P35 per kg)
• 1 tablespoon (15g) iodized salt, P0.50
    (P16 per 1/2 kg)
• 1 teaspoon (5g) ground black pepper, P3.5            
   (P34 per 50g)
• 1 teaspoon (2.8g) whole black pepper
• 1 can liver spread, P14 per 85g-can
• 2 pcs bay leaves, P1
• 1 pc red bell pepper, cut into strips, P10
• 1 pc green bell pepper, cut into strips, P10
• 3 pcs (0.5kg) potatoes, medium-sized diced, P32 per 1/2 kg
• 1/2 cup (151.4g) raisins, P19.70 (P13 per 100g)
• 1/2 teaspoon meaty ginisa oil, P5
• 1 tablespoon (7.5g) Savory mix, P2