<>
2. Suppliers

A key element in event planning is knowledge of and maintaining  a network of suppliers, says Angeline  Lee, owner of Gen Lee Events, a wedding and debut planning and coordination company established in 1996.

"Wedding coordinators and planners are professional people who are very knowledgeable about the wedding industry. They know the very expensive and the most affordable suppliers in town," says Lee, resource speaker of BusinessCoach Inc. on event planning.
ADVERTISEMENT - CONTINUE READING BELOW

BusinessCoach provides seminars workshops and consultancy programs to help entrepreneurs start and develop their businesses


3. Expertise

Lee says it is important for the events company to know all about the events it wants to organize.  For instance, a wedding planner should be able to tell the difference between a fondant cake and a regular cake, Lee says.

"They should be able to tell good quality from bad. They know the pros and cons of hiring a professional host versus an amateur host. They should know the twists and turns in a wedding, how to properly hold the bride's bouquet for  instance. They mind the smallest details," says Lee.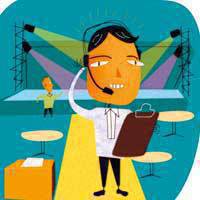 4. Basic items
ADVERTISEMENT - CONTINUE READING BELOW

Accoding to Lee, these items include a laptop, which costs at least P20,000; printer, at least P3,000; wedding coordinator seminar, P3,000; government registration fees, P5,000; and office supplies, P2,000.


Lee says other needs are optional such as an office space, accountant, secretary, advertisement fees, professional Website, uniforms for team members and a two-way radio.


An event planner may be able to recoup his investment in a year or two, she adds.

 
5. Personality traits

While setting up the business may seem easy, its has some very crucial requirements on the part of the entrepreneur/ Among the traits the event planner should have are –


*Ability to multi-task – Lee says this is crucial because the event planner must perform and oversee many tasks and aspects of the job simultaneously.


*Highly flexible –Santos says the event planner must be able to respond to different needs and able to think on his feet. He must also pay close attention to details and possess a very optimistic attitude.


ADVERTISEMENT - CONTINUE READING BELOW
*Patience and good leadership skills – Such skills, Lee says, are needed in working with various sets of suppliers; the event planner must be able to handle extreme pressure and stress since unexpected and unwanted circumstances happen all the time.


*Time management skills – This is a must especially for wedding coordinators, Lee stresses, because "churches and reception venues have time limits."


Likha-Event and Catering Specialists
www.likhaevents.net
1800-5 Eastwood Ave.
Bagumbayan, Quezon City
(02) 706.5421

Gen Lee Events
www.genleevents.com
(02) 510-0475; 0922-8338008
genleeevents@gmail.com


BusinessCoach Inc.
businesscoachphil.com
Unit 201 Richbelt Tower,
17 Annapolis St.,
Greenhills, San Juan City
(02) 727-5628; (02) 727-7839

Joy Santos
Wedding events coordinator
0918-9050285