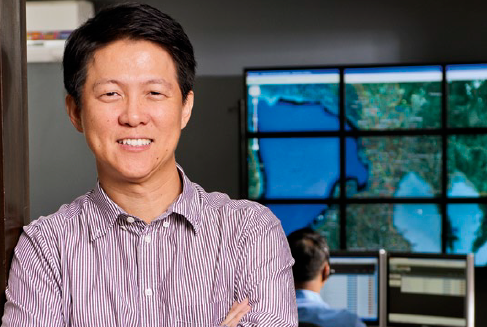 Cars, vans, motorcycles, trucks, and other vehicles are crucial to the operation of many enterprises. Aside from maximizing their usefulness, another concern for businesses maintaining a fleet of vehicles is security: according to the latest statistics from the Philippine National Police, 966 carjacking incidents were reported nationwide in 2011.

What can you do to protect your company vehicles? Get some assistance from information technology.

"Today, many companies that operate and manage a fleet of vehicles turn to technology to solve their problems and minimize risks," says Donovan Yu, CEO of Journey Tech, a company that offers IT solutions for the motoring, logistics, and transportation industries. Many companies "worry about security, particularly hijacking and fraud. Of course, when a vehicle is lost or damaged, there is an associated high cost," he explains.

Indeed, advances in global positioning system (GPS) technology and its availability worldwide have made it possible for small- and medium-scale businesses to incorporate it into their operations. Many use it not just to monitor their vehicle's location, but also to gauge its speed and mileage.

Journey Tech, founded in 2006, designs systems that address issues like "load or cargo planning, fleet dispatching, payroll, and even emergency assistance support," Yu shares. Aside from knowing where your vehicles are, here are other ways that IT-assisted fleet tracking can benefit your business:
ADVERTISEMENT - CONTINUE READING BELOW


Spare time for spare parts
Every vehicle component has a lifespan. Code these values into a program and you have an efficient virtual assistant that can monitor maintenance needs. Tires need to be replaced after four months? IT providers like Journey Tech have developed intuitive programs that periodically remind you about replacing parts and even renewing insurance coverage. Using an electronic inventory also helps in deterring employees from fraudulently replacing new parts with old ones (and selling them in the black market).

Vehicle comparison and contrast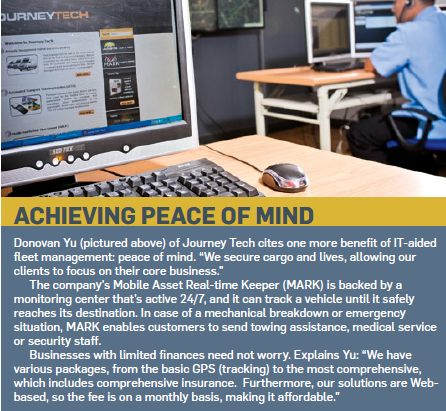 Not every vehicle is created equal. With IT-enabled analytical tools, fleet managers can compare and contrast various vehicle brands in their fleet according to performance, fuel consumption and efficiency, and maintenance costs.
ADVERTISEMENT - CONTINUE READING BELOW

Personnel management
Storing and maintaining employee records in a database is a given, but advanced technology solutions like Journey Tech's Armada Management Portal Solutions allow human resource managers to regulate and analyze common driving infractions, and then retool or retrain drivers accordingly.

Cash flow management
Those in the public transportation business worry about being shortchanged all the time. Journey Tech and other providers have developed applications that can prevent theft and fraud, as well as eliminate inefficiencies by automating ticketing and enabling fleet managers to access ticket records and sales in real time.
*****
This article was originally published in the April 2012 issue of Entrepreneur magazine. Subscribe to the print or digital version here.   

Photo by Kai Huang