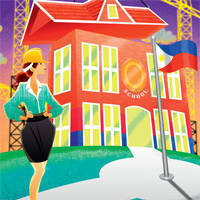 If you are  an entrepreneur with a background in education, you might want to consider establishing a school.


The probability of success is good because you will be drawing inspiration and technique from your own expertise, and also because it is something you will enjoy doing; therefore, you will be more likely to sustain the business than someone who is just in it for the money.


Furthermore, schools are always in demand and the tax outlook is good. There is however a preliminary consideration: Should you put up a school or a training center? What is the difference between them anyway?
 Setting Up A School

Basically, a school is an organized space for learning, approved and monitored by the relevant government agencies, and situated in certain select locations. A school follows a curriculum and staffing pattern set by the Department of Education or Commission on Higher Education.
 1.Staffing

Elementary and high schools— which should probably be your starting point, as it would be too complicated to venture into higher education right away—are staff ed by a  principal and teachers who must all be licensed educators (that is, board passers).


ADVERTISEMENT - CONTINUE READING BELOW
The principal must have a Master's degree in education. The following personnel are also mandatory: school administrator, administrative staff , head teacher, librarian, nurse, security guards, maintenance people, and cafeteria staff .