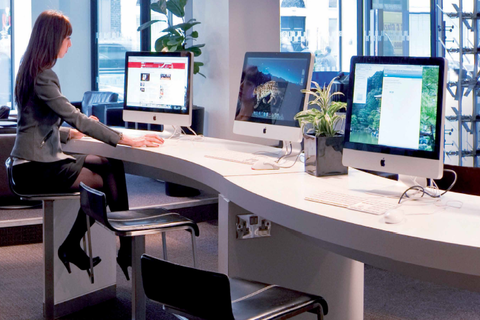 Once upon a time, an office meant a long lease---a desk for each person and a meeting room that was either empty most of the time or never available when you needed it.

None of these arrangements suited the needs of small businesses. As well as being expensive, traditional office spaces hinder flexibility to grow rapidly or scale back overheads if finance is tight. Those also halt working practices that attract talented staff.

Fortunately, setting up an office is more flexible and affordable nowadays. Companies can follow this simple checklist for selecting their office space, and in the process help their staff to work more productively and spend less time commuting. The following factors should be sought:  

1. The right premises

Businesses need premises that comply with local regulations. This encompasses anything from qualifying for a trade license to meeting health & safety requirements.

Such protocols can be daunting if you are entering a new market. However, using serviced offices can smooth the way because these aspects are managed for you, leaving you free to concentrate on the core business.

An additional attraction of using serviced offices is that you can outsource elements such as reception, IT connectivity, and cleaning services, which can help save both time and the cost of hiring support staff.

2. The right location

ADVERTISEMENT - CONTINUE READING BELOW
A good location reassures potential partners and clients, and gets you closer to them. It could be a good business strategy to lease an office space from Regus. The company is currently present in 11 different buildings within the top business districts in the country. Its offices for rent are mostly in Metro Manila but it also has one location in Cebu City (Apple One Equicom Tower).

It has premises in four buildings in Makati City (Zuellig, Philamlife Tower, Enterprise, and BPI Buendia) and two in Bonifacio Global City (Net Lima and Net Cube). It also has office spaces in Pasay City (One E-com), Alabang (Filinvest One Building), Ortigas (Joy Nostalg), and Eastwood (Cyber One).


3. The right meeting space

Meetings run better if participants are not distracted.  Holding them in coffee shops or open-plan offices is not usually a recipe for a good outcome. But that doesn't mean you need a permanent meeting room, which will still require rental fee and other running costs even if it sits empty all year.

A more cost-effective alternative is to use pay-as-you-go meeting or seminar rooms, often available for as short as just an hour. Ideally, such rooms will be available at the same location as your office, and this could be one of your criteria for choosing premises.

4. The right workspace

ADVERTISEMENT - CONTINUE READING BELOW
The days of 'one-person, one-desk' are disappearing because so many people do their jobs remotely. Many of the senior business people today work away from their main office for at least half the working week. Paying rent on desks that may be unused half the time is logically a waste of resources.

Instead, use modern office arrangements such as flexible workplaces or 'hotdesking.' These facilitate mobile ways of doing business and often cost less than traditional fixed spaces. Moreover, based on research by Regus, majority of senior business people confirm that flexible working practices such as giving choice over work locations and hours helps improve their productivity.

So, in addition to your main office, offer your staff access to professional workspace in other possible venues or further, afield. Walk-in business lounges allow mobile workers to find a place to concentrate, catch up with paperwork, connect to secure Wi-Fi, use printers or couriers, and meet contacts.  They can use any of these "third places" as an office closer to home, a temporary base when travelling, or a site to fill time productively between appointments.

A few other things to think about

ADVERTISEMENT - CONTINUE READING BELOW
That checklist covers the physical aspects of what to look for when you set up an office. Additionally, these ideas will smooth the setting-up process.

Get ready for business. The sooner you can get your office up and running, the sooner you can generate business and cashflow. That's why there's a lot to be said for choosing office space that is ready-to-use and fully equipped.

Look after the cash. At a time when majority business people locally say lack of access to credit is a deterrent to entrepreneurs, anything that can help you manage your finances is a boost. One way to do this is to use flexible workspaces where no upfront capital investment is required.

Stay flexible. Life is often unpredictable for SMEs. Revenues can come faster than expected or stall temporarily because of late payments or lost contracts. Because of this, look for arrangements that will accommodate both good times and bad, and that will allow you to scale up or down quickly.

The good news is that flexible workplace arrangements cover all of these angles and there are plenty of options available locally. Fortunately, setting up an office nowadays is nothing like the chore it used to be.

ADVERTISEMENT - CONTINUE READING BELOW


To know more about the office leasing options from Regus and to know how it could help you setup your office, get in touch with the company. Find its contact details in its directory listing here .