Chic, feminine, cozy – these are words that describe the many nail care salons that have been sprouting in the metro. However, these words do not just point to the ambience of nail salons; these words indicate the kind of market these places attract.
Pedicure, manicure and various body treatments are the usual services a nail salon offers, the very same services that a neighborhood beauty parlor provides. What makes nail salons increasingly the more popular option among the well manicured?


Catherine Ilacad and Leslie Matta, both nail salon owners, say that women—and men—no longer want to come out of a beauty parlor with red-stained fingertips. (A lot of the neighborhood beauty parlors still use thimerosal, the red-colored mercury based antiseptic  more popularly known as merthiolate.)


They also want the time they spend having their nails cleaned and cared for to be an enjoyable and relaxing experience, which one would hardly get from waiting in line and being served in the cramped spaces of neighborhood salons.
ADVERTISEMENT - CONTINUE READING BELOW


A local forerunner in the nail care business is CANS—California Advanced Nail and Skincare—paving the way for other nail care salons.


Matta, owner of CANS and its franchising arm, California Nails and Day Spa, recalls the overwhelming demand for their services when they opened back in 1996. "People would complain that they could not be served right away, because of the big number of people going to our salon," say Matta. "What a positive problem."


Matta surmises that there was pent-up demand for professional and spa-level nail care services, such that people, without any second thught, shifted from going to beauty parlors to specialized nail care salons.


California Nails, at present, has 11 outlets all over Metro Manila, nine of which are franchised

 
Setting Up a Nail Salon

1.    Research

Although nail salons are akin to beauty parlors, operating one and the other are very different.

For one, nail salons offer specialized treatments, focusing on the hands and feet. Two, the nail salon industry is a very young industry—those who want to venture into this field have very little previous research to bank on. They would have to do their own R&D.
ADVERTISEMENT - CONTINUE READING BELOW


There are however foreign companies that local entrepreneurs that local entrepreneurs could use as models. Matta for instance did all her preparation, training and research in California, USA.


Upon retiring to the Philippines in the 1990s, she and her husband Ted  decided to put up a nail salon, seeing that there was only one player in the local market then.


The couple put up their first outlet on a 39-square-meter space at the Alabang Town Center in Muntinlupa City, shelling out less than P1 million in initial investment.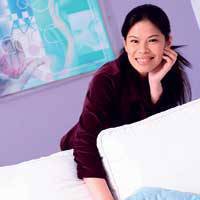 ADVERTISEMENT - CONTINUE READING BELOW
 Photo shows Catherine Ilacad of Posh Nails
2.    Staff Training

Currently, there is no Philippine institution that offers training for would-be nail salon entrepreneurs. Ilacad of Posh Nails did all her research on the Internet. She attended trade shows and got her training abroad.

She immersed herself in the discipline, reading books, magazines and trade publications. When she felt she was ready to start the business, she trained her own staff.


With P1 million in initial capital, she put up her first outlet in Greenhills, San Juan. She has since opened the business for franchise. Posh Nails now has eight outlets, seven of which are franchised. She will soon open the ninth in Cebu.


Training manicurists and nail salon operators according to international standards is a must in order to give the business a professional reputation. People who go to neighborhood salons often have to contend with manicurists who do not practice proper hygiene when treating customers.


ADVERTISEMENT - CONTINUE READING BELOW
Aside from training, it is equally important for the entrepreneur to retain the good manicurists. Commissions, incentives, fair treatment and a friendly work atmosphere will make the best employees stay.


In a business where there is a lot of interaction with customers, the front liners should be equally happy with their work.