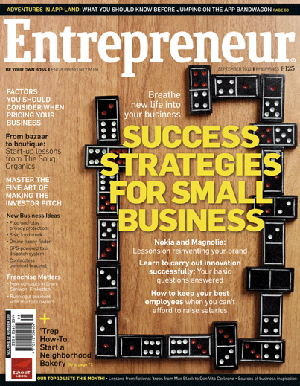 Be the first to grab a copy of our September issue on success strategies for small business. Do you want to know how to carry out innovation successfully? The September issue answers your basic questions. There are 7 elements needed to foster innovation. "No one stays relevant without innovating," says Ramesh Ramadurai, managing director of 3M Philippines.
ADVERTISEMENT - CONTINUE READING BELOW
A brand is a name or symbol that identifies a seller\\\'s product or service. What does it take to reinvent a beloved brand? Telecom giant Nokia and ice cream maker Magnolia are still here despite tough times. On page 54, they tell us how they are up for the challenge and what they are doing to recast themselves as better and stronger.
Are you an aspiring bakeshop entrepreneur? In this issue, we guide you on how to manage a successful bakery business. You will need a passion for baking and solid knowledge on resource and cost management.
A company is only as good as its people. How do you retain talented staff when the business can\\\'t offer higher salaries? One way is to make sure that your employee package includes benefits that increase motivation. Read how on page 64 of our September issue.
Don\\\'t forget to buy a copy of our September issue out in bookstores and newsstands this week. You can also download past issues here.
ADVERTISEMENT - CONTINUE READING BELOW