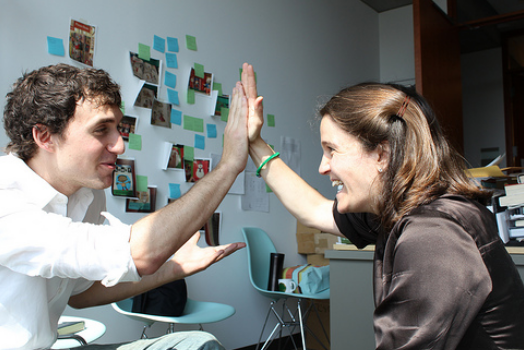 <>
If you have a job, there's a decent chance you spend a huge portion of your life at work. If you are an entrepreneur, there's a decent chance that your life has become your work.
"I don't think of GoldieBlox as a job, I sort of think of it as a life calling," says Debbie Sterling, speaking of the toy company she founded that aims to get girls excited about engineering. "In so many ways now, my personal life and my professional life sort of bleed together."
Part of why Sterling's 'work life' and 'personal life' are one is because when she was launching GoldieBlox, she didn't have money to hire. Instead, she brought family and friends on board.
Despite some pretty meteoric growth Sterling's husband, sister and best friend are still part of the team. Her husband, Beau Lewis, leads the company's digital video and production efforts; her sister, Stephanie Glasband, is in charge of customer service; and her best friend, Lindsey Shepard, is vice president of sales and marketing.
ADVERTISEMENT - CONTINUE READING BELOW
Working with her husband has some pros and cons. On the one hand, Sterling doesn't have to explain to him the stresses of her job, and when work gets really overwhelming, she knows that he has her back. On the other hand, their relationship can sometimes feel like it revolves around Goldieblox. To mitigate that, they designate date nights where they're not allowed to talk about the company, which can be a challenge for both of them, Sterling admits.
When your work feels like your life's purpose, as GoldieBlox does for Sterling, having your 'work life' and 'personal life' overlap may not feel invasive. But there's also something to be said for creating a firm dividing line. For example, Brian Bordainick, the founder of the modern-day supper club Dinner Lab, says he cherishes the friends who don't know what he does for work and aren't interested in talking to him about it. "I still have friends who still don't really know what I do, and I love those friends."
ADVERTISEMENT - CONTINUE READING BELOW
Related:
This entrepreneur wants girls to think engineering is awesome
GoldieBlox CEO: How I went from Kickstarter to the Macy's Day Parade in two years.
The Budweiser Clydesdales have some ad competition from a girl inventor named Goldie
Stress, anxiety, loneliness: How this entrepreneur lost himself and bounced back stronger
What does it feel like to find your purpose?
Copyright © 2014 Entrepreneur Media, Inc. All rights reserved.

This article originally appeared on Entrepreneur.com. Minor edits have been done by the Entrepreneur.com.ph editor.