Psychologists have long held that perceptions shape behavior more powerfully than reality. One fine example of perception influencing reality is the conventional wisdom on leadership. For the longest time, business owners have sworn by some beliefs about leadership that at best have brought them mixed results. And when conventional wisdom doesn't give one the outcome he wants, it's time to challenge this belief. Here are the most common leadership misconceptions.
[related|post]Myth #1: Leaders are born, not made.
Scientists have yet to find the so-called leadership gene. While we are all born with different potentials and personalities, none of us are born leaders. There are as many leadership styles as there are people: Some are more charismatic while others are more quiet and warm. You can develop your leadership skills by raising your awareness, creating opportunities, or trying something new.
Think of strengthening your leadership as a lifelong project instead of a quick-results task. Set modest goals and regularly check your progress. Find and meet with a friend or mentor with exemplary leader¬ship qualities, and talk to him not about leadership, but about how business is going, especially about how you interact with staff, customers, and partners. The truth: Leadership is learned and developed.
ADVERTISEMENT - CONTINUE READING BELOW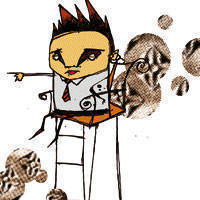 Myth #2: Status and position make a leader.
When asked who they think are the greatest influences in their life, people often say teachers, coaches, priests, and relatives. Many on the list may not hold what society considers as high status positions, but their leadership was powerful enough that it changed lives. Leadership is not about holding a title; it's about taking action. Showing up early, going home late, and working alongside the staff at cleanup time are manifestations of leadership.
ADVERTISEMENT - CONTINUE READING BELOW
Some people with fancy titles are actually ineffective leaders, while others with the barest of social standing can wield influence beyond expectation. In your business, you ask yourself: Who are the unrecognized leaders? What am I doing to develop them? The truth: Leadership is shown in action and influence.
Myth #3: Leaders control.
Leadership is sometimes confused with control. The misconception is that instilling fear allows one to maintain a position of leadership. In reality, too much control puts a ceiling on business potentials. Consider the case of a salesperson in a tiangge who, when asked for a discount, always consults the owner. Such rigid rules are indications of ineffective leadership.