It is not surprising that the number of Filipinos who prefer to leave the country to find greener pastures abroad continues to increase. Based on data from the Philippine Statistics Authority, there were about 2.3 million overseas Filipino workers (OFWs) in 2014, up from 2.2 million in 2013. 

Some of those 'modern heroes' eventually decide to return home to be their own boss. Several of those OFWs share their stories in a documentary produced by the National Reintegration Center for OFWs (NRCO) under the Department of Labor and Employment (DOLE), in partnership with the International Organization for Migration (IOM). 

Be inspired by the stories and learn insights from these four former OFWs who were able to save their hard-earned money so they could finally turn their lives around and be successful entrepreneurs back at home.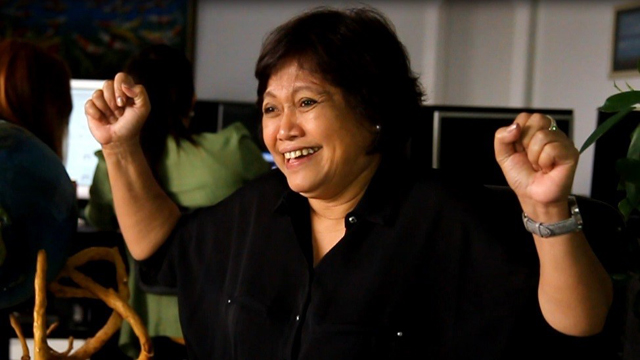 ADVERTISEMENT - CONTINUE READING BELOW
Myrna Padilla, CEO and president of Mynd Consulting and Outsourcing Phils. (former housekeeper in Hong Kong)

"What's important (in a person) is to have enough courage to face failures. You won't be able to learn unless you've experienced failing. Success starts from trying and overcoming your fears."


Padilla grew up in Bohol, where she used to dive for seaweeds as a living. She'd sell those in the town market so that her family can have something to eat.

Just like many other Filipinos, she came across an opportunity to work abroad, with the hope of easing her family's poverty. She worked as a housekeeper in Hong Kong for 20 years. 

There, she used every opportunity to learn new skills while generating income. Through her perseverance, she learned about the basics of the Internet and how it can be used as a tool for business and communication. 

Not surprisingly, when she returned home for good, she put up her own business process outsourcing company, which is currently among the biggest ones in Davao City.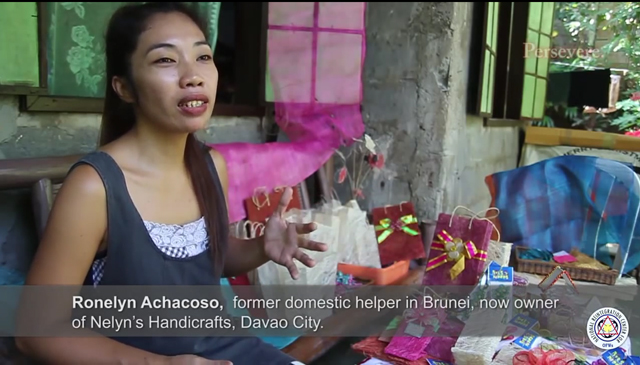 ADVERTISEMENT - CONTINUE READING BELOW
Ronelyn Achacoso, owner of Nelyn's Handicrafts (former housekeeper in Brunei)

"Our country is not a wealthy country, so we need to create wealth through our own efforts. Put up a business which is suited to your skills, knowledge, and capabilities. Don't be discouraged; it's just normal for a businessman to experience ups and downs." 


After being maltreated and accused of theft by her foreign employers, Achacoso still managed to get up and move forward. When she went back home, she looked for local opportunities to earn income. Since she's into arts and crafts, she ventured into handicraft making in Davao City. 

She attended trainings offered by the Overseas Workers Welfare Administration (OWWA) and learned flower-making and DIY invitation card designs using abaca sheets. She was able to grow her business and now supplies to department stores in her home city.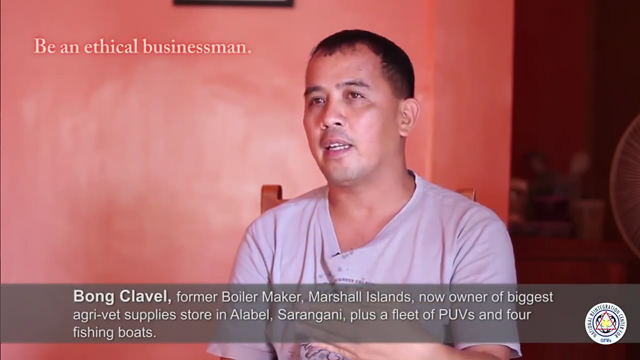 ADVERTISEMENT - CONTINUE READING BELOW
Bong Clavel, owner of Z-Jay Marketing (former boiler operator in Marshall Islands) 

"Honesty and integrity in business are important. The product to be sold must be of such quality expected by the customer. You must not cheat your own employees by underpaying their wages to ensure good customer service. Good customer service plus quality products equal customer loyalty." 


It was in 1999 when Clavel grabbed the opportunity to work as a boiler maker in Marshall Islands in the north Pacific, earning approximately $1,500 per month. Despite the high cost of living in the area, he managed to save almost 70% of his monthly earnings. 

In 2001, Clavel decided to come home for good and used his savings to open a business. He put up an agri-veterinary supplies store in Saranggani Province. It wasn't a smooth start but he successfully overcame startup challenges and grew his company. 

Now, he owns the biggest agri-vet supplies store in Alabel (his hometown), a fleet of mini cabs, and four tuna fishing boats. He encourages other OFWs to plan for their future and find good investment opportunities where they can grow their hard-earned money.
ADVERTISEMENT - CONTINUE READING BELOW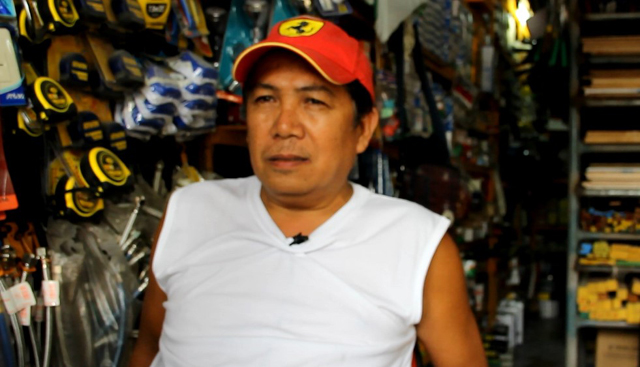 Rodolfo Valenzuela, owner of two hardware stores in Quezon City (former hardware salesman in Saudi Arabia)

"If you have already accumulated enough savings, go home. Don't be afraid of returning, thinking of what businesses you should put up. Businesses in our country can be learned."


During his younger years, Valenzuela was forced to work in a farm in Negros Occidental as a kargador (loader) to help his family. He eventually took several other challenging jobs (like being a welder, factory worker, and salesman) so he fund his college education and be a civil engineer. 

However, despite having finished college, he found it hard to look for a high-salary job that can support his growing family. Thus, he opted to go Saudi Arabia, where he worked as a hardware salesman. While working abroad, he thought of putting up his own hardware store in the Philippines when he gets back. 

After his two-year employment contract ended, Valenzuela went home and fulfilled his dream of building his own business. He used his work experience to operate his own venture in his homeland. "Spend and save your salaries wisely. Don't be afraid to return home and do business," he advises.


ADVERTISEMENT - CONTINUE READING BELOW
*****
This article is based on the stories of OFWs interviewed by Labor Attaches Jalilo Dela Torre, Jeffrey Cortazar and Marlito Ayala of DOLE 11. Click here to view the full documentary.
Photos from the National Reintegration Center for OFWs (NRCO)