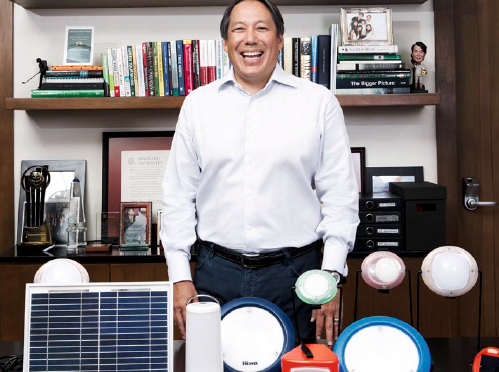 <>Jaime Ayala has 20 million potential customers. His social enterprise, Hybrid Social Solutions Inc., has so far signed up 100,000. Nineteen million, nine hundred thousand more to go.
Ayala, the president and founder of the four-year-old enterprise, is unfazed. He just wants to bring solar energy to remote
sitios
and help low-income families lift themselves out of poverty.
Ten years ago, he wouldn't have been able to do this, as the technology would have been too expensive. But Hybrid offers solar lamps and lighting systems which cost from P2,500 to P8,000. The most basic serves as a flashflight, but the more sophisticated units can charge cellphones and provide lighting for up to eight days.
The problem
"Unless you've got electricity and things that electricity powers—like Internet, communications, computers, motors, pumps—it's very, very hard [for poor communities] to actually develop," says Ayala. "There's probably upwards of 70,000
sitios
that we need to reach."
Bringing the solar lamps to remote
sitios
presented different challenges to Hybrid in financing, marketing, distribution, and service. Right now, Hybrid is building a value chain that would allow it to reach customers even in the remotest areas.
They're getting there. "It's really a matter of what's a good model to reach one
sitio
and then I have to replicate that thousands of times," says Ayala.
The fix
Key to Hybrid's strategy is that it partnered with organizations, such as foundations and cooperatives, and NGOs, that are already in the targeted communities. With partners on the ground, it's able to gain the confidence of its target market and educate them on how investing in such systems could create wealth for them and ultimately improve their lives.
Ayala cites the case of Susana Dimaano, a customer in Mindoro who, after buying a solar lamp, saw an increase in her family's income from their
lanzones
farm and piggery. Thanks to the lamp, Dimaano and her husband were able to shoo away fruit bats that feed on their
lanzones
at night. In one harvest, they made P15,000 and bought a second-hand motorcycle, which they use to bring the fruits to the market. Dimaano also credits her solar lamp for allowing them to tend to their pigs better, especially during birthing. "One pig is worth P2,000 to P3,000. You save one pig and you've already paid for your light," says Ayala.
Convincing people to part with their hard-earned money was another big challenge. Hybrid solved this by partnering with microfinance institutions to allow customers to buy the solar lamps through credit and easier payment terms.
With many of their target market untapped, Ayala remains focused. "Our company culture is like Mother Teresa meets the Marines. You need to have the compassion of Mother Teresa, but at the same time, you have to be a Marine to be able to deliver the products to the poor."
ADVERTISEMENT - CONTINUE READING BELOW
Photo: Heidi Aquende
This story was originally published in the August 2014 issue of Entrepreneur magazine. Subscribe to the print or digital version here.