Solid perfume has been around since the early years of perfumery. In fact, English women had used it as pomanders--perfume in containers used as pendants. "Through the years, liquid perfume became more popular and the use of solid perfume slowly declined. But brands like Estee Lauder, Marc Jacobs and L\\\'Occitane still produce these types of perfume," explains Bettina Huang, general manager of Grasse Fragrance Company.
Though cologne and body spray are the preferred forms of perfume in the country because of the hot weather, producers of organic personal care products are now producing solid perfume in a much lower price than the high-end brands\\\'. Huang says the product has a lot of potential as long as it is marketed well.
Solid perfume is light, does not spill, long-wearing and not greasy. It is also alcohol-free, which makes it good for people who have sensitive skin.  Plus, the sweet almond oil ingredient has health benefits. It is known as an effective emollient which improves complexion and adds glow to dull skin. Applying sweet almond oil also provides instant relief from muscle pain.


ADVERTISEMENT - CONTINUE READING BELOW
Entrepreneurs who are already into the business of personal care products or giveaways may add this to their menu. Solid perfume may be packaged as wedding, birthday, debut or anniversary giveaway.


One would roughly need P4,500 to P5,000 to buy the ingredients including the packaging.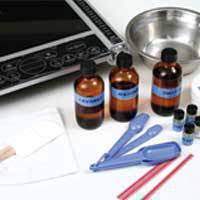 INGREDIENTS and formulation:
6g    Beeswax, 40 percent
6g    Sweet Almond Oil, 40 percent
3g    Fragrance Oil, 20 percent
1pc  10g Polypropylene ring container
1pc  5g Polypropylene ring container
ADVERTISEMENT - CONTINUE READING BELOW