Even in times of crisis, people need to look and feel good. Because of this, beauty salons remain among the most viable businesses all over the world.
In the Philippines, two of the more popular salons are Salon de Manila and Ystilo Salon. They are known as the most enduring salon brands in the country and they tell us tips to gaining this position.

1. Maintain a High Level of Quality

Pin Antonio of Salon de Manila says hairstyling is "not just cut and color, but also how to do it." Antonio who has been styling hair since the early 1980s says that to ensure the quality of services at the salon, she relies on "constant updating, training and education," not just her own skills but also that of her staff as well. This is all for the benefit of the customer , she states.

2. Be very upbeat

Antonio says that it is better to "be active". Like most entrepreneurs, she is a very "hands-on" owner. She says: "Work-wise I handle everything, just to ensure the quality of our services to our clients.That\\\'s why I\\\'m around our branches everyday." Also, what she learns in her stints abroad, Antonio then passes on by training her fellow stylists and staff at Salon de Manila at their beauty school, The Glass Academy.
ADVERTISEMENT - CONTINUE READING BELOW
3. Give Customers a Choice
While many clients would want to be styled by Antonio, sometimes she is just not available; her schedule only allows her to be at particular Salon de Manila branch once a week. She also candidly admits that most clients could not afford her talent fee.  But despite common perception, Antonio stresses that her salon is not at all expensive. Their roster of junior stylists, or what she describes as their "younger generation," can do an excellent job for a fraction of her fee." "What\\\'s important is the execution of the job," Antonio says. In addition, Salon de Manila has an array of products and services to choose from. What\\\'s important for Antonio is to help the client make the right choice by offering them all the options available to them.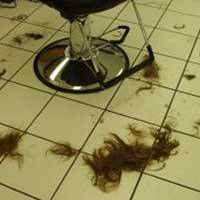 4. Invest in your education

Antonio worked at salons in Los Angeles, California - considered among the fashion capitals of the world -- for three years early in her career. Since she came back to the Philippines for good in 1995, Antonio has made it a point to return each year to the renowned Vidal Sassoon and Toni and Guy hair institutes in London, where she picks up the latest tips and trends in hairstyling. As for the Glass Academy, she admits not everyone can afford the tuition there. But she reasons: "My expertise is high-priced, but I will be giving you a skill you can use for life."

5. Go for quality each time

To give quality, you have to have quality. That\\\'s why Antonio believes in only getting the best salon materials from both here and abroad: Salon de Manila has acquired digital equipment used by the top salons abroad, while she says some locally made hair colorants and treatments are "the best in the industry."
ADVERTISEMENT - CONTINUE READING BELOW