When food parks started popping up around Metro Manila in early 2015, budding restaurateurs took it as a chance to put up food concepts without the burden of a big investment. Unlike malls that required huge capital, food parks served as an affordable alternative for entrepreneurs since they require just a fraction of the investment in a mall while still attracting large crowds.
Dessert store concept The Lost Bread and Filipino food stall The Good Tapa were some of the brands that immediately tried the food parks. Helmed by twenty-something entrepreneurs, the two food concepts launched their first permanent stalls in food parks operated by the team behind what used to be The Yard two years ago.
While the food park trend has slowed down somewhat, The Lost Bread and The Good Tapa are still going strong. They have even opened stores in shopping malls in Metro Manila, solidifying their entry into to the big leagues.
ADVERTISEMENT - CONTINUE READING BELOW
In separate interviews with Entrepreneur Philippines, The Lost Bread co-founder Patty Marabut and Fatima Ventura of The Good Tapa shared how they successfully transitioned from the food parks to the malls.
The Lost Bread rose to popularity as a dessert stall in one of the food parks in Quezon City. Today, it has two mall branches located in SM Megamall and Glorietta. 
ADVERTISEMENT - CONTINUE READING BELOW
Take your time
An invitation from some of the country's biggest malls to set up shop in their spaces would have been an opportunity any entrepreneur would have accepted at once. But Marabut and her partner, Emil Ongchuan, decided early on that they'd rather grow sustainably than quickly expand.
The apprehension mostly stemmed from budget and operational constraints, factors that the young founders say should be taken seriously into consideration by entrepreneurs.
"Even when we were just starting in [2015], there were already many offers to us from mall operators and those (who) want to franchise our brand but we had to turn them down since our operations were very small then, just the two of us," Marabut said as she recalled the first months of operations with her partner, Ongchuan.
The young entrepreneurs wanted to ensure they could maintain The Lost Bread's brand even when they expand, a problem that continuously hounds even some of the biggest companies today. "Aside from offering unique and quality products, it is also crucial to take good care of the concepts' branding as a whole [when opening inside a mall]," she added.
ADVERTISEMENT - CONTINUE READING BELOW
The two only decided to expand when they were able to hire full-time staff members who can help them in the back-end operations, from marketing to sales.
By 2017, The Lost Bread opened its flagship store at the SM Mega Fashion Hall in Mandaluyong City to a warm welcome from customers. The concept, which grew to viral-level popularity for its towering milkshakes and "Instagram-worthy" dessert offerings, also recently opened a franchised store at the Glorietta mall in Makati City.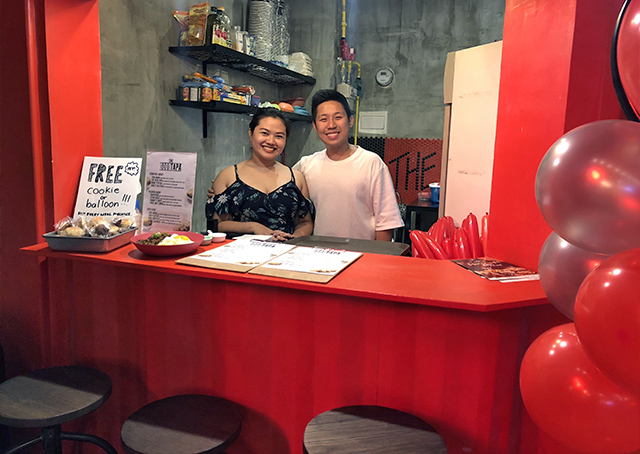 ADVERTISEMENT - CONTINUE READING BELOW
Fatima Ventura and Geremy Kho of The Good Tapa started their business by joining bazaars. Today, it has a permanent stall in a food hall in Evia Mall in Las Pinas City. 
Ensure you are financially ready
To open these branches, the entrepreneurs had to save up two years' worth of income just to finance their mall locations. For their 70-square-meter flagship store, the Lost Bread founders had to set aside around Php4-5 million, inclusive of the security deposit to the mall operator.
"Above all else, always run your numbers if it would be beneficial or costly if you open a branch inside a mall," Marabut said.
Marabut recalled that they had to source everything for the construction of their first store themselves to ensure they are getting cheap but quality materials.
This is a practice echoed by Ventura of The Good Tapa as she and her partner were also in a tight budget when they opened their stall in Evia Mall in Las Pinas City.
ADVERTISEMENT - CONTINUE READING BELOW
"If it's your first time and you have a budget like us, canvass for all the materials and don't stop until you've convinced yourself that you're buying something already near to its cost, meaning, if you are, you probably are buying from the source already," Ventura added.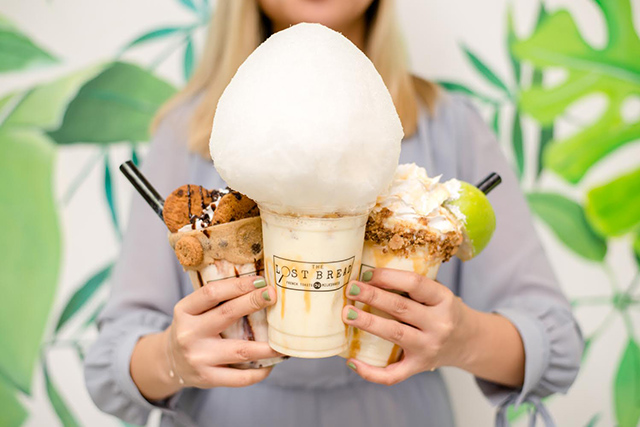 The Lost Bread got viral on its first year in business thanks to its towering milk-shakes. 
ADVERTISEMENT - CONTINUE READING BELOW
Adhere to mall standards and rules
While food park operators tended to be more lenient about leasing violations by their tenants, mall administrators tend to be very strict with their rules. Ventura said malls penalize tenants even for minor violations with fines, prompting her to formalize operations to ensure their staff would also follow standard practices.
"We really needed to standardize our rules and regulations as a company to our staff so everything would be more in order compared to before when disputes with our staff were fixed by just talking it out," she said.
Often, mall operators also take a cut from their tenants' sales, which could erode a big part of a small business' bottom line. So, on top of  rental rates, tenants also have to take into consideration the mall operator's commission when pricing their items.
"The percentage sales cut is now being accounted for in our expenses which lowers profit. With the presence of a lot of competition inside the malls, it is also a challenge for us to drive walk-in customers to the store and be top of mind," Marabut shared.
ADVERTISEMENT - CONTINUE READING BELOW
Be creative and adapt
This prompted The Lost Bread founders to diversify their menu offerings and serve more than just desserts. For its flagship store, it offered entrees and savory appetizers to accommodate more customers.
"We also adapted to the need of the market by selling affordable lunch menu items to cater to the corporate employees who visit the store," she added.
For their part, the Good Tapa founders add small tweaks to the way the dishes were prepared to enhance taste and flavor. Ventura is well aware that their main product—rice toppings of popular Filipino breakfast fare, tapa—is not a new concept. But she is confident that a "good" take on any product can bring in the customers.
"As long as you are sulit (worth it), people respond well to that," she said.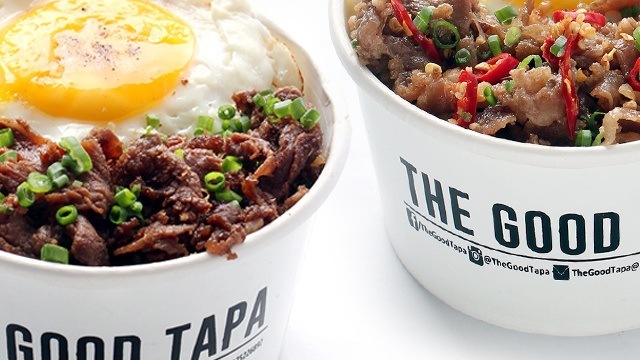 ADVERTISEMENT - CONTINUE READING BELOW
The Good Tapa offers various variants of the famous Filipino breakfast fare. 
Take advantage of your mall status
Indeed, opening a store in a mall could be overwhelming for some, especially with skyrocketing costs required just to put up shop. But there is no denying that a brand's presence inside the mall could also help spell long-time success for any business.
"Aside from the mall foot traffic, opening in a mall adds value to your brand and it also serves as a working advertisement to the thousands of people who pass by," Marabut said.
This marketing capital, though intangible and costly, could be beneficial in the long run as it helps the brand develop a certain prestige, attracting potential investors, partners and curious customers. 
"Opening our first mall branch opened a lot of doors for us especially in terms of franchising. One of the many reasons why we opened our brand to franchising was the increase in mall space offers," Marabut explained.
ADVERTISEMENT - CONTINUE READING BELOW
*****
Elyssa Christine Lopez is a staff writer of  Entrepreneur.com.ph