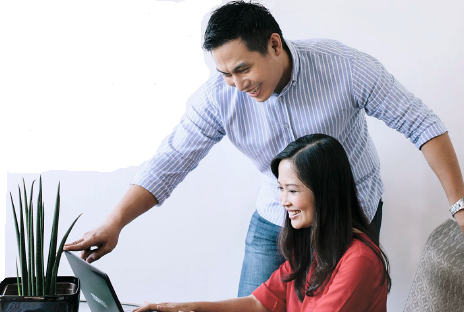 <>I'm so proud of her," says Mark Leviste, whispering while out of earshot of his wife, Michelle. "This has been her lifelong dream."
When they met, Mark was product manager for PLDT and Michelle Leviste was market development manager for The Coca-Cola Company. With well-paying, stable jobs and promising careers, the young couple looked like they were ready to ride off into the sunset.
But in March 2012, the unimaginable happened: Their infant daughter, Elyssa, passed away. "It was a wake-up call," says Mark.
They decided to change their lives for the better by spending more time with each other and their two older children, made possible by finally quitting their jobs to put up their own business. "I'd wanted to become an entrepreneur for a long time," Michelle says. "I realized that, if I wanted the business to work, I had to dedicate my time to it."
Their venture, Marky's Chicken Poppers, is the result of that decision. While Michelle does the planning and business development, Mark supports her by managing the kitchen.
Though the entrepreneurial life has its ups and downs, the couple has never looked back. Best of all, another daughter, Mikaela, was born to the couple in August 2013.
ADVERTISEMENT - CONTINUE READING BELOW
Photo: Sonny Thakur; Makeup and grooming by Vida Non Jaucian

This article was originally published in the April 2014 issue of Entrepreneur magazine. Subscribe to the print or digital version here.