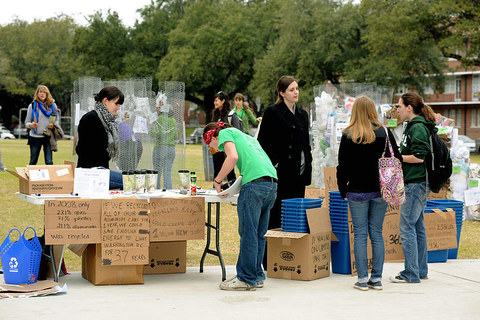 <>The images and metaphors used to describe aspects of the free market have always been violent, intimidating and aggressive. We hear of bulls and bears, cutthroat competition, and guerilla tactics. Manuals of war have been appropriated as models of management. And market behavior can be reduced to statistics and graphs, much like battle plans.
Does that mean the tamer "good guys" finish last in business as well? For businessmen who run social enterprises, the answer is a big no; not only can they finish first, they take other people along for the ride and help them finish as well. So how do you become a social entrepreneur?
1. Primary means: Teaching a man to fish.
Steven Cua, CEO of the Philippine Amalgamated Supermarkets Association (PAGASA), defines a social enterprise as a business that helps the poor alleviate their poverty by giving them the tools and opportunity to have a piece of the pie.
"Technically, a social enterprise is set up with the prime objective of alleviating the poor by engaging them as employees, suppliers, target market and/or owners of the enterprise," says Cua, 51. The association of supermarkets head is an advocate of fair trade, encouraging grassroots associations and nonprofits to develop products that could compete head-to-head with products made by bigger manufacturers.
What a social enterprise is not is a charity. Dennis Drake, founder and former CEO of the International Deaf Education Association (IDEA) affirms this. "Part of the business aspect of a social enterprise is to help the clients learn that they have to compete just like everybody else," says Drake, 61. "And if they are treated like they're a beneficiary that is owed a living, owed being cared for, and earned a right just because of their disability and their situation, then I think we'd have done them an injustice."
Employees or "clients" of a social enterprise also need to be aware of their responsibility to themselves, Drake adds. They need to "come to terms with the fact that, we're not holding their hands forever, that they are going to need to stand on their own two feet, and we need to get them to that point as fast as possible."
2. Primary goal: Benefit the marginalized.
A social enterprise, however, exists for the benefit of the target client. "An existing company that decides to help the marginalized in society, which may include its clients after years of existence, is said to be practicing their CSR (corporate social responsibility), but if that is not the primary objective of the company, the firm cannot be labeled as a social enterprise," he says.
"Can a company which practices CSR shift to become a social enterprise at a later period of its existence? Yes, if the entity eventually decides to place the poor at the core of their corporate purpose, either as employees, suppliers, target market, and/or owners, and if they treat this sector fairly in the conduct of their business," Cua adds. "Some companies buy from the poor but actually squeeze them dry."
3. Serve two masters.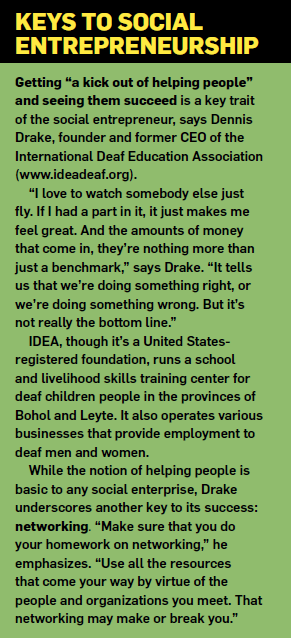 The other side of the coin is that social entrepreneurs are not oblivious to the needs of running a business. A social enterprise that is a failure as a business is useless. Drake explains: "It's critical to have some sort of financial base that it can't fall below, a certain operating capital that just has to be there; otherwise we close doors and nobody's helped."
This may entail the hiring of an operations manager whose only job is to make sure the social enterprise makes money—but on top of it all, the social entrepreneur needs to see the bigger picture.
"Unless you have an entire world out there that just says, 'Aw, that's too bad, look at those poor people, let's just give them money. We'll use their product because they're so sad,' then good," says Drake. "But that's not the way the world works. People are looking for quality and value from us (social enterprises) as they would from anybody else. And if we can't produce this, we're not gonna get our customers."
A social entrepreneur may even go as far as teaching his wards or beneficiaries how to survive the ultra-competitive market. "Business people always complain about cutthroat competition and difficult business conditions, yet fail to hold hands with those who wish to be entrepreneurial but still lack the skills or know-how in doing business," Cua says.
"Since this (the Philippines) is a consumer-led economy, we can safely assume that the more people who know how to run businesses (instead of just relying on fixed salaries), the better their disposable income will be," he adds.
It's a delicate balance; the social entrepreneur cannot take the advice of Gordon Gekko (the fictional corporate raider played by actor Michael Douglas in the movie "Wall Street") and have "Greed is good," as a mantra, and on the other hand simply run the business on pure altruism. It's a mix of attributes and attitudes that make a good social entrepreneur, say Cua and Drake.
4. Running a social enterprise is its own reward.
From this altruism, a social entrepreneur "is a person who wants to treat his fellow countrymen fairly in offering them a slice of the pie meant for all the contributing members of a productive society," Cua says. "If one knows that he or she cannot keep this commitment, vocation, and steady dedication, then it would be best to do what their heart asks of them."
The difficulties of running a social enterprise should serve as a caveat to those who think they should go into it because they have a good idea or a heart for a certain marginalized group, say Cua and Drake.
Still, "Running a social enterprise is its own reward," says Cua. "It is definitely not the average businessman's idea of being able to immediately live the life of comfort he aspires to. But without a doubt, it fits one's lofty ideals of being a man for others, especially to those who just need a little push to go far in life."
A lot of people would love to help a social enterprise, Drake adds. "There is nobody out there that's a stand-alone. It has to be done in a community and with an organization. There's an old saying, 'It takes a village to raise a child.' It's kind of the same; it takes a community or a village to put together a social enterprise. It can't be done by one entity only."
This article was originally published in the August 2012 issue of Entrepreneur magazine. Subscribe to the print or digital version of the magazine here .

ADVERTISEMENT - CONTINUE READING BELOW