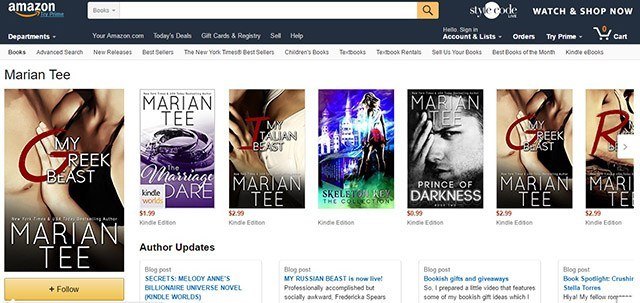 Do Filipinos love to read? A person buried with his or her face in a book may not be a common a sight in public, but statistics tell a different story.
According to the National Book Development Board (NBDB), there are currently 9,480 books by Filipino authors in circulation that are available to about 90 percent of Filipino readers. The data the NBDB released in December 2016 include promising numbers for the literary community, including 195 Filipino authors, 146 book publishers, 144 books, 164 book importers, 670 bookstores across the country and 1,692 book printers.
ADVERTISEMENT - CONTINUE READING BELOW
The NBDB also estimates that every month, seven million Filipinos visit the popular website Wattpad, which features stories written by netizens. In fact, in 2014 alone, almost 300,000 completed stories were uploaded by both professional and aspiring authors on the platform. This is a far cry from the reported 107,068 International Standard Book Numbers registered at the National Library in 2010 but new, digital platforms for publishing have given writers more independence and flexibility when it comes to disseminating their works.
Hybrid authors
According to Mina V. Esguerra, a popular author and part of the #RomanceClass community of writers, there is a rise of "hybrid" authors or those who self-publish their works online yet still work with corporate publishers.
"That's very exciting, because there's so much potential and mutual benefit when finding partnerships these days," she says.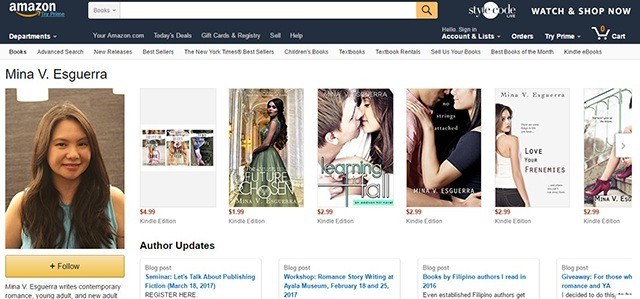 ADVERTISEMENT - CONTINUE READING BELOW
Esguerra has published her romance novels in digital platforms such as Amazon, iTunes, Barnes and Noble and Kobo. Most of her books are priced at $1.99 to $2.99 (Php100 to Php150) each. For Barnes and Noble, you can even order paperback editions for $8.99 to $18.99 (Php450 to Php950).
"Ebooks and online reading are extremely popular, with thousands of Filipino readers doing so," Esguerra adds.
Purchasing ebooks and online reading subscriptions is another matter, she noted. Based on her observations, only a single-digit percentage of free readers convert to paid when reading digital. This refers to the practice of authors who also publish parts or all of their works for free to gain the attention of readers who would likely purchase their work in digital or paperback.
"Arguably that can still be a really good number," she says. "If your free reading audience is 200,000, as some Pinoy authors already have, then even one percent of those buying digital can put the author on a bestseller list."
ADVERTISEMENT - CONTINUE READING BELOW
Esguerra points out that, in many cases, print books still outsell digital books when it comes to Philippine readers. 
"I'm not saying authors should give up on digital entirely," she says. "Print sells but the production process is slow and expensive. A digital book can, and has, sell hundreds overnight without any production or distribution delays. Digital is also wonderful for backlist titles. While we're used to thinking that a years-old book will no longer be on a bookstore shelf, a digital book is always in stock and can always be relevant again."
Pinay Bestseller
These digital platforms for publishing has also enabled Filipino authors to become international bestsellers. One of these writers is Marian Tee who became a bestselling author in the US for her adult novel, The Art of Catching A Greek Billionaire, which became part of a boxed set, Billionaire Bad Boys of Romance. It went on to reach No. 50 in the USA Today bestseller list and it also peaked at No. 22 on the New York Times bestseller list for combined print and e-book sales. Most of her adult novels are also in the Amazon bestseller list.
ADVERTISEMENT - CONTINUE READING BELOW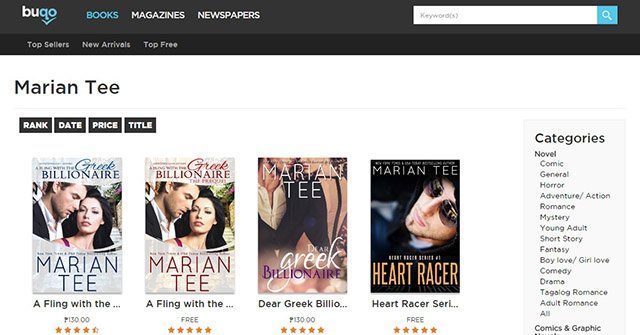 "When Twilight came along, it opened my eyes to the possibility of querying not just local editors but literary agents in the US as well," Tee says. "I never stopped writing books and stories since then, and eventually my dream came true. I'm a full-time author now."
Her steamy adult romances that appealed to the international audience are available on Amazon, Google Play, Barnes & Noble, Kobo and Buqo. Each book ranges from $0.99 to $2.99 (Php50 to Php150).
ADVERTISEMENT - CONTINUE READING BELOW
For the technical process of uploading your manuscript to a publishing platform like Amazon's KDP (Kindle Direct Publishing), the process varies from one platform to another, Tee says. While all of them have FAQs to help new readers out, Tee emphasizes that authors always have the option of outsourcing this part.
"This is actually what I've been doing from the start. I feel my time is better spent writing, so anything I can afford to outsource, I do so," she says.
Tee suggests that instead of using her earnings as a benchmark, aspiring self-publishers or authors should check out AuthorEarnings.com. It provides comprehensive quarterly reports on author earnings, mostly indies vs. traditionally published. According to Tee, the website is proof of how far authors, regardless of where they live, can go on their own and live off their passion for writing.
According to the latest report released by the website in January 2017 for example, traditional publishers in the rising e-book market have been losing their market share to self-published authors for the past three years, faster than the overall market is growing. In the last few months of 2016, there has been an uptick in traditionally published e-books but there is uncertainty whether this trend will continue.
ADVERTISEMENT - CONTINUE READING BELOW
Tee, however, points out that publishing digitally still has its advantages. With digital publishing, self-publishers and traditional publishers are both able to take more creative risks since e-books have significantly lower production costs compared to paperback or hardcover releases.
"E-books also mean you don't have to worry about availability of stocks or be limited by operating hours and locations of brick-and-mortar retailers or distributors," she says. "People can buy your work anytime. They just need to go online for it."
Independent publishing and freedom
For Tee who also started out her career with traditional publishers, the only difference that matters is how much control you have over your book. She says that when you're traditionally published, you usually have to bow down to what the higher-ups say on just about everything: from how your cover looks to story direction to pricing and release schedules. This is probably why more and more Filipino authors are going independent.
ADVERTISEMENT - CONTINUE READING BELOW
"It may mean saying goodbye to advances and working extra hours on marketing, but being in control also means you have the power to put in effect any changes (however and whenever) to ensure that your work remains visible," she says, noting that so many new books are being uploaded every day.
ADVERTISEMENT - CONTINUE READING BELOW
"You need to be more vigilant and strategic not just about marketing but in choosing what to write as well," she added.
Esguerra has also witnessed the rise of independent authors. She says she has seen that more and more indie-published books are looking a lot like corporate-published ones.
"As a reader I've made the switch and now buy more indie books, and I think more readers will start doing that too. I'm sure publishers are thinking the same thing, and will want to partner with indie authors more," she says.
For authors who are planning to give independent publishing a try, especially in digital platforms, Esguerra suggests to be observant with trends. 
"Some authors write along with trends, and that's very rewarding, when you know what you're doing. When you do this, you'll have readers ready and waiting for that book."
However, she advises authors to be disciplined, work on schedule, write fast and smart. Some authors don't write along with trends, which is fine too, but she says they'll need to focus on finding the right readers for their book, and it may be a smaller group that grows over time. Some authors choose a path, or do both.
ADVERTISEMENT - CONTINUE READING BELOW
Tee's advice to aspiring professional writers is to write about what you love and know your target market.
"Just keep releasing new books and you'll get your break sooner or later."
*****
Nicai de Guzman is the marketing head of Rising Tide, a technology solutions company. She is also the Manila bureau manager of Probe Media Foundation's Mulat Pinoy-Kabataan News Network and a regular contributor for SPOT.ph. Follow her on Twitter @nicaideguzman and LinkedIn https://www.linkedin.com/in/nicaideguzman