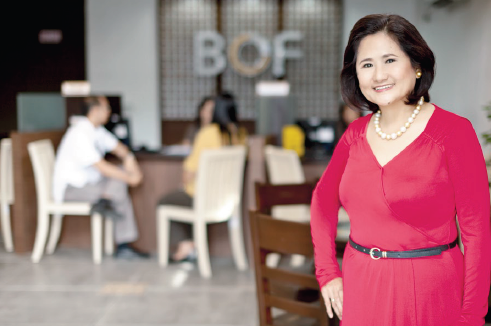 Bank of Florida (BOF) is proudly born and bred in Pampanga. Sure it made a brief foray into Manila, but the rural bank is doubling back to its bailiwick amid tight competition and the realization that its strength lies in its connection with the community it grew up in. Now, the bank is embracing its roots in a bid to deliver service that plays up its half-a-century old knowledge of the local culture and the people.

So it's only natural it's new logo, a yellow and white ring, was inspired by "Atin Cu Pung Singsing," a Kapampangan folk song about finding a lost ring. To the bank, the ring symbolizes the Kapampangan and national cultures as well as a promise to clients to give them the best possible service. "It's more than having a good-looking symbol. There is a story behind it and how it serves as a guide in what we are as a bank," says Bank of Florida president Teresa David-Carlos.

Along with a new logo, the bank is also revamping the look of its branches. It's part of a strategic re-branding effort, she says. "Right now, it's very, very stiff in banking. If you're a small and weakling bank, you won't be able to cope with the competition. So that's why the change we're making is deeply rooted in the communities."

Part of this strategy is "to be truly connected to clients," David-Carlos explains. "So we have to work on improving our core of being customer-centric." To fully realize this goal, Bank of Florida set its sights on making the customer's experience pleasurable, satisfying, and as convenient as possible.

Here are some tactics the bank adopted to enhance customer experience:

Be people-friendly.

Bank of Florida believes that banking can go beyond being an impersonal transact-and-go activity. A number of its branches already have areas that resemble coffee shops, complete with free coffee. "We'd like our customers to hang out," David-Carlos says. "They can even have small business meetings here." Part of the process is replacing the high-transaction counters with desks. The new branches give off a more calm and unintimidating air with capiz windows, sofas, and colorful displays. Going against the industry's penchant for using bold primary and secondary corporate colors, the bank opted for a relaxing brown color theme.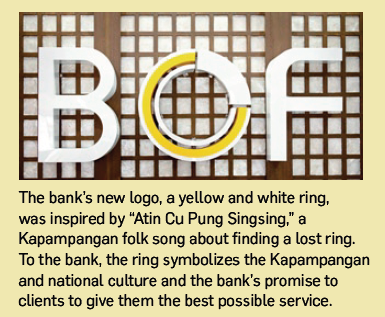 David-Carlos says the bank is also weighing setting up a drive-through teller service to improve customers' access to the bank. If pushed through, it will be the first time a local bank will offer such a service.

Simplify.

In the past, BOF offered clients numerous banking products, which led to customer confusion. It has since simplified its line of products, focusing on a few core offerings. On one end are its "fruit-bearing" deposit products: Apple (kids savings), Banana (passbook savings), Orange (premium checking), and Mango (time deposit). On the other end are its loan products: Fast Cash (multi-purpose), AgriLoan (agriculture and countryside), Commercial (business), and SSS Pensioner. "We're making saving easy by setting the initial deposit at P100 for the Apple and Banana products," David-Carlos says.

David-Carlos says for meaningful change to happen, it must begin "from the inside to the outside." That's why the bank is training its people. "It's quite a lot of investment," she says, to train staff to ensure the customer is the center of attention. She says the bank also reorganized senior executives so they could "be more productive."

"We started all these in 2012 and we hope all these changes will spell a difference," she says.


Photo: Dairy Darilag
ADVERTISEMENT - CONTINUE READING BELOW
This article was originally published in the March 2013 issue of Entrepreneur magazine. Subscribe to the print or digital version here.