<>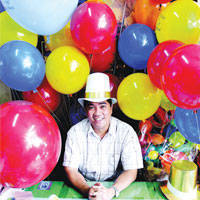 PHILIP VILLARUEL: "The pie is huge so there's enough for everyone."

PARTY TIME: ORGANIZING PARTIES FOR KIDS
No longer ordinary events, children's birthday parties now offer excellent business opportunities for service-oriented entrepreneurs
Children and young adults normally don't have purchasing power of their own, but they exert considerable influence on their parents' buying decisions. This is particularly true in the holding of their birthday parties.

Birthday party organizing is, in fact, a business that cashes in on this situation. Although there are no official figures on how many birthday party organizing companies there are in the country, industry insiders say that the business is very substantial and can still accommodate new players.

And through the years, birthday parties have become much more demanding; today, a successful bash requires much more than just balloons and clowns or magicians. With themed parties becoming the vogue and with most parents now too busy to handle the preparations themselves, the organizing and coordination needed to achieve the desired theme are now increasingly being handled by professional party organizers.

ADVERTISEMENT - CONTINUE READING BELOW
Indeed, party organizing has become such a viable business that entrepreneurs like Philip Villaruel of Villaruel's Toy Balloons and Evelyn Caño-Peralta, a freelance party organizer, have decided to make it their full-time occupation.

"The pie is huge so there's enough for everyone," says Villaruel. "This is because in every neighborhood, there will always be someone every day who will be celebrating his or her birthday with a party."

Villaruel used to work in a bank as a control analyst before deciding to manage the family-owned party organizing business. "I realized that becoming an entrepreneur is more rewarding than holding an office job," he says. "If you are a salaried employee, no matter how hard you work, the only reward you could look forward to is a promotion."

In the case of Peralta, she used to organize parties simply as a sideline. Before going full time in the business, she had worked as a computer secretary and inventory clerk. "I decided to take party organizing seriously when I realized that I was earning more from it than from my regular job," she says.

ADVERTISEMENT - CONTINUE READING BELOW
Villaruel and Peralta both had early exposure in the party organizing business before going into it on their own. Villaruel was only 10 or 11 when he started helping in the family's party organizing business by filling out invoices and official receipts.
On the other hand, Peralta was still in high school when her elder sister, who was known in the industry as Teenee the Clown, took her in as an assistant. Eventually, her sister trained her to be a clown in her own right, and on her own she also learned how to be a party host, magician, and ventriloquist. When her sister left the country to work abroad, she left all of her costumes and equipment to Peralta.

Both Villaruel and Peralta would gladly share their party organizing knowledge and skills to people interested to do the business. Says Peralta: "I sometimes serve as a mentor for entrepreneurs interested in this business. I tell them where to buy their supplies and how and where to book talents such as magicians, and I don't charge them a consultancy fee at all. Of course, I don't share all of my trade secrets with them. It's up to the newcomers to eventually learn them on their own."

ADVERTISEMENT - CONTINUE READING BELOW
Unlike in other industries where new players are looked upon as competitors, the birthday party organizing industry sees them as possible future business contacts instead. Says Villaruel: "Most of those who ask for our help are from the provinces. When we help them, they return the favor by getting their party supplies from us."

In the party organizing business, subcontracting is the name of the game. Indeed, if you want to set up a party organizing company yourself, you need not have your own in-house talents or party equipment. Instead, you can subcontract these services to other party organizing outfits. If you have limited capital, you can focus on a particular related business.

For instance in a balloon-making business, you need only a capital of as small as P5,000 to P10,000. With an average markup of 20 percent on party organizing expenditures, you can expect to recover your initial investment in only six months.

ADVERTISEMENT - CONTINUE READING BELOW
Peralta says that if you choose to focus on the party organizing business, it would help to first undergo training in balloon-making. This way, he says, you can offer your clients more products and services, such as balloon chandeliers and balloon sculptures.

Villaruel, on the other hand, advises entrepreneurs interested in party organizing to also go into the chairs and tables rental business. "The capital required is anywhere between P100,000 and P200,000," he says. "It's quite steep because you'd also need a delivery vehicle to transport the chairs and tables." He adds that if you want to put up a full-service party organizing outfit, you should be prepared to have a minimum of
P300,000 for initial capital.

Peralta says that overhead expenses in this business can easily be controlled by limiting the number of staff. In her case, she has only one assistant but she makes sure that this doesn't affect the quality of her service. The trick, she says, lies in multitasking. "To succeed in this business, you should be willing to perform several roles," she says.

ADVERTISEMENT - CONTINUE READING BELOW
Both Villaruel and Peralta rely mainly on word of mouth to generate business for their party organizing outfits. Says Peralta: "Satisfied clients will often refer you to their friends, so it's very important to provide quality service to your clients all the time."

She also keeps a portfolio of her works for presentation to prospective clients. "When meeting a client for the first time, you have to show them pictures of the parties you have organized," she says. She also advises entrepreneurs to visit major organized events and bridal fairs. "This way, you can establish linkages with caterers and other party organizers who might need a specific service later on," she says.

Still another way, she advises, is to approach the banquet managers of restaurants and fast-food chains and offer your services to them. She says: "Jollibee and McDonald's outlets exclusively organize parties on their own, but there are a lot of restaurants and food chains that allow outside party organizers. Among them are KFC, Shakey's, TGIF, and Pizza Hut."

ADVERTISEMENT - CONTINUE READING BELOW
For Villaruel, it greatly helps that Villaruel's Toy Balloons is one of the pioneers in the industry, having been set up by his parents way back in the 1960s. He recalls: "We once had a client who wanted specifically us to organize a party for her child. She told us that this was because when she was young, her mother would buy balloons from us for her birthday parties."