Some of the projects that MJ Ringor's Mundo Design + Build has worked on include (from left) Hotel 101, TNS Global Market Research Philippines, and the Microsoft office in Manila
No project is too small for MJ Ringor. When his company, Mundo Design + Build, was just starting out, he said yes to a job to fix up the bathroom of a Honda dealership in Batangas. It didn't seem to make sense to work on such a small-scale project that was also at least a three-hour drive away from Manila, but his company did it anyway.
ADVERTISEMENT - CONTINUE READING BELOW
Ringor's dedication and enthusiasm paid off. The clients were so happy with Mundo's work that they signed up Ringor to work on a full Honda showroom in Cebu next.
This diligence was developed early on in Ringor's life. Immediately after he received his Industrial Design degree from the University of Santo Tomas, he flew to the United States to join his family. He ended up juggling two jobs—one in an industrial laundry shop and another in a tile-packaging warehouse. Eventually he put his degree to use; he started accepting interior design work from Filipino-American clients, many of whom would fly him to their houses all over the country.
"I was around 21 then," the now 34-year-old Ringor says. "I would work till around four a.m., sleep for about three to four hours, then go back to work. I'd stay in the house so sometimes I'd be the all-around 'boy.' I'd end up cleaning the house. Most of the time I was just by myself, I didn't have anyone to talk to. Sometimes I'd just turn the music up. I would just think about how much I was going to earn."
ADVERTISEMENT - CONTINUE READING BELOW
Besides money, Ringor earned valuable experience during his year working in the US, but the plan was always to come back to the Philippines. His last design job earned him Php2 million, enough to buy his own condominum unit back in Manila and open up his own design firm.
Mundo Design + Build began with three employees, including Ringor, in a tiny 40-square-meter office in Bonifacio Global City.
"We didn't even have computers in the beginning so I would just sketch the projects by hand," he says. "I got an architect to work with, and to maximize manpower, I'd be the one going out to buy materials."
Ringor's old clients in the US referred him to their friends in Manila. He also used to go to places like MC Home Depot and hang out at coffee shops, offering his services to people he would overhear talking about home and design projects. "I was like a condominium salesman, handing out my card and flyers," he reminisces.
ADVERTISEMENT - CONTINUE READING BELOW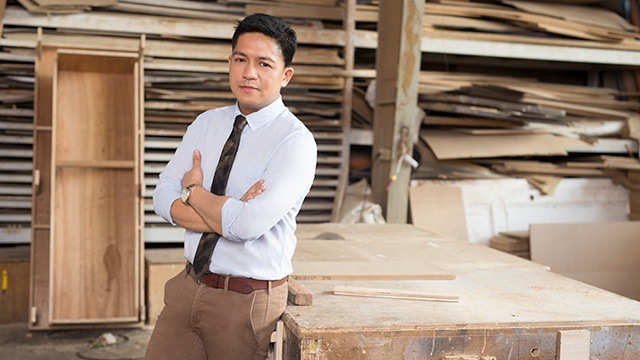 Ringor, who graduated from UST with an Industrial Design degree, founded Mundo Design + Build in 2009 
What set Ringor apart was his collaborative style. While many design firms would impose their opinions on their clients, Mundo's approach was one of cooperation and mutual trust.
"I don't have an ego," he says. "I would never impose my own designs on the client. I wanted to be versatile and easy to work with. And I wanted my clients to feel a sense of ownership to their homes."
ADVERTISEMENT - CONTINUE READING BELOW
But what really made Mundo different is when it added full-service construction to its portfolio. Integrating design and construction means the company doesn't need outside contractors, which, in turn, means service is more centralized and easier to manage.
Ringor says this approach came about because design clients would often have complaints about the contractors they hired to execute their designs and wondered if Mundo could take on that aspect of the project, too.
"It was the city hall in San Jose, Batangas," Ringor says. "Everyday, I would go there by myself and buy the materials. That was our first construction project. Clients then saw our potential in project management."
A firm that combines design and construction is still a relatively novel concept in Manila, and Ringor says it's likely because most companies would rather focus on their core strengths.
"And probably because it's less stress," he says chuckling. "But seriously, ever since I've always focused on construction because I want to stay true to our motto of 'We Build Your World.' I want to be able to say that we can build almost anything for you."
ADVERTISEMENT - CONTINUE READING BELOW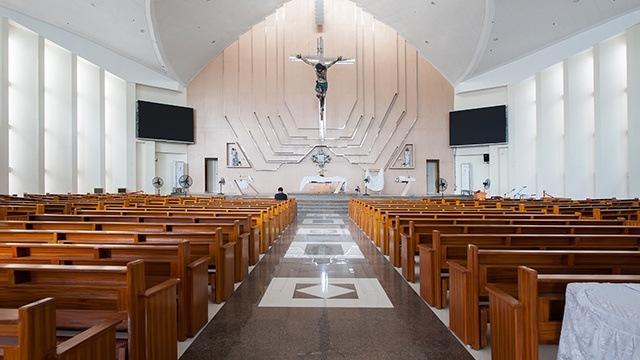 Mundo also worked on St Michael the Archangel's Church in Taguig
Mundo's client base now ranges from offices, retail outlets, restaurants and other commercial and office spaces, as well as residential. Besides private homes, a few of the projects they have worked on include Vikings Restaurant, Café Veranda in Taal Vista Hotel, Edgar "Injap" Sia's Hotel 101, Microsoft, Philex, Shangri-La Properties and Widus Hotel in Pampanga.
ADVERTISEMENT - CONTINUE READING BELOW
"I think it all comes down to timing," Ringor says. "For example, last year, we did a project for Shangri-La, an 80-square-meter burger restaurant called Raging Bull in BGC. They saw the workmanship and quality, so they asked us to do one floor of their residential units. Now we're doing fit-out for Anchor Land Holdings. We're doing the elevator lobbies and finishings. Then we did the finishings for Hennan Hotel in Boracay. So when we got the Widus project, which is huge, we're ready. We can say that we're trained to do those types of projects."
The strategy seems to be paying off. Mundo has been growing its revenues an average of 40 to 50 percent annually since it started in 2009, reaching a peak in 2015 when it grew 65 percent compared to the year before. The company is optimistic they can grow even bigger in the next four to five years, particularly with the strong local economy and an incredibly vibrant construction sector. The company has even hinted at an initial public offering (IPO), if its strong fundamentals hold up in the next few years.
ADVERTISEMENT - CONTINUE READING BELOW
"The goal is to keep 40 to 50 percent growth annually," Ringor says. "Then we'll see."
*****
Paul John Caña is the managing editor of Entrepreneur PH