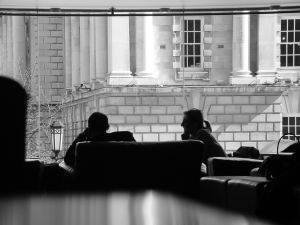 Not all coffee shops are created equal—some opt for a fast-food, utilitarian vibe, while others choose to provide an ambience that invites patrons to stay for long periods of time. Before tackling space concerns, determine your café's character and menu. An equally important thing to consider is your café's location. In principle, locating your coffee shop in a shopping mall is more expensive than getting space in a suburban area.
ADVERTISEMENT - CONTINUE READING BELOW
When designing the space for your coffee shop, there are typically two things you should consider:


[related|post]• Dining-kitchen ratio. Architect Jeanne Mercado stresses, "dining-kitchen ratio is key to space allotment. All others will follow from this." Roberto de la Costa, a food-service expert, explains that no two places are the same. "Unfortunately, most restaurant owners simply have to work with the space/layout they are offered. Some restaurants set aside 50 percent for the dining area and 50 percent for the kitchen area, while others set various ratios."


• Work efficiency. De la Costa emphasizes that kitchen design is a factor in the work efficiency of cafe's and restaurants. "For example, production flow should always be a straight line, meaning, the process [should] not be going back and forth to achieve faster service time." He also cites the importance of furniture layout to ensure safety and customer comfort. "In restaurants, a narrow corridor will always pose more safety concerns," dela Costa says.


ADVERTISEMENT - CONTINUE READING BELOW