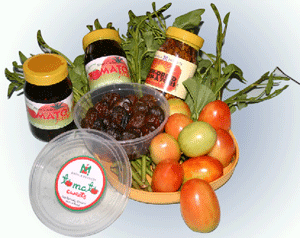 A lot of people already know about the social enterprise ECHOstore, the sustainable lifestyle retailer that gathers many products from small, marginalized and cultural communities, creative industry practitioners, women groups and foundations under one roof. However, the story behind the product-makers of these wares is usually more compelling than ECHOstore itself.
ADVERTISEMENT - CONTINUE READING BELOW
Case in point: the Kababaihang Masigla ng Nueva Ecija (KMNE), the group behind the Masigla Food Products brand of preserved fruits and rice-based products sold at ECHOstore and other outlets around Luzon. In over a decade, the group of farmers' wives and retired teachers has produced 30 products—harvesting accolades for them along the way—and now is knocking on the doors of the export market as they perfect their two best-known items: sun-dried tomatoes and rice wine.
Preserving the harvest
When KMNE was formed in 1999 as a community project of a Masonic Lodge in Quezon town of Nueva Ecija province, one of its goals was to make use of an oversupply of tomatoes in the summer. These were harvested during the off-season for rice (the province's main cash crop), but the tomatoes often rotted away in the midyear heat or were just given away.
[related|post]Transforming these tomatoes into sweet desserts by preserving them helped the women's group earn additional income for their families. Every year, they processed at least 5,000 kilos of the tomatoes, especially the Apollo variety. They later learned to preserve tamarinds, guavas, kamias and karamuy, which were plentiful in their Gintong Ani agrarian reform community.
ADVERTISEMENT - CONTINUE READING BELOW
Soon help started pouring into the enterprise, after the Technical Education and Skills Development Authority (TESDA) had given the group P50,000 for initial capital. The Masonic Foundation of Lodge No. 73 donated P150,000 for them to buy food-grade equipment. The provincial government of Nueva Ecija also provided P300,000 to build a food processing plant and training center on a donated 800 sq m parcel of land.