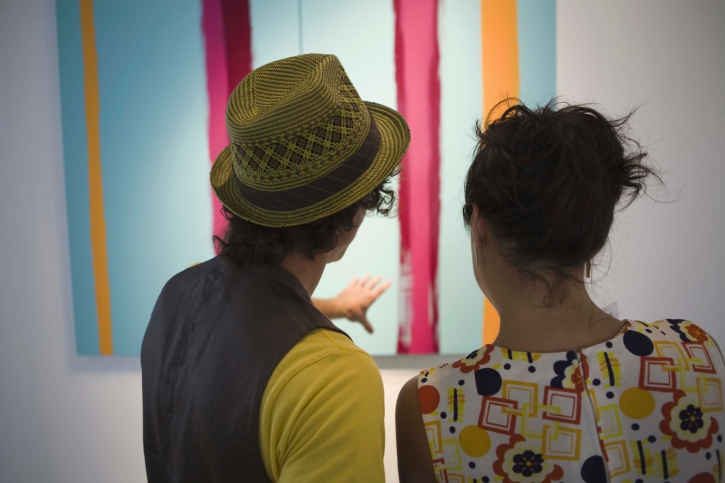 If there is one single incident that made a lot of people suddenly consider collecting or buying art, it will have to be Ronald Ventura's spectacular showing at a Sotheby's auction. His painting, Grayground, shattered the world record for Southeast Asian contemporary art, with a hammer price of $1.1 million.
ADVERTISEMENT - CONTINUE READING BELOW
Everyone did the math. For sure, the purchase price for a Ventura painting is nowhere near the resale value. The profit made—if one owned such a piece—will boggle the mind. Which brings us to the million-peso (or dollar as in Ventura's case) question: Is art a good investment?
Perhaps it would be wise to ask the usual questions when acquiring an asset. Will a painting, sculpture, print or any form of art assure you of good returns down the line? There is a good chance if you have the budget for blue-chip artists. For the most part, the answer is no.
The price of an art piece depends on many factors, such as the condition of an artwork, the future reputation of an artist, the economic condition of the times, and the number of works by the same artist that are out in the market, to name a few.
ADVERTISEMENT - CONTINUE READING BELOW
Pros and cons
Is art a stable, eh, "commodity" that is less vulnerable to external factors such as economic downturns, natural catastrophes (think floods and earthquakes)? All it will take is one flood to wash away value from an oil painting, or render a watercolor worthless.
If the economy is bad, expect fewer buyers and, most likely, depressed prices. Will it cost money to preserve the art's integrity and value? A botched framing job, molds, deterioration because of heat and humidity, are just some of the things that can affect the price of an art piece. You can have something restored, but it will cost you a bundle.
Will you be able to unload it at premium price when you need the money? Yes, if somebody is willing to give you a fair price in that kind of situation. Can you use it as collateral for a loan? Not with most banks.
ADVERTISEMENT - CONTINUE READING BELOW
Can the prices be manipulated? Absolutely.  Art trade is an unregulated playing field. For example, you never know who is furiously bidding in an auction. It can even be the owner of the art himself who is simply trying to push the price higher. I think I can stop here.
It's your decision
If you are not convinced, perhaps you might want to read Melanie Gerlis' book, Art as an Investment? A Survey of Comparative Assets.  At the 2014's Philippine Art Fair, Esquire Philippines' former editor in chief Erwin Romulo was appalled that some people asked him what they should buy. "If you have to ask me about what to buy, maybe you shouldn't buy anything at all. Art is the worst investment that you can make. The only value is your value," he said.
Editor and art authority Carlo Tadiar does not recommend buying art as an investment unless the buyer has some kind of interest in art to begin with. "Unlike other assets, art has an emotional component that some people just don't get. They would be better off buying stocks, land, or gold."
ADVERTISEMENT - CONTINUE READING BELOW
Of course there will be arguments about the promise of fantastic returns, but it would most likely come from the selling end of the trade such as the gallerists and auction house owners. Nonetheless, profit can be made from art.
In the late 90s, the regional economy experienced a downturn and not too many people bought art. It was quite commonplace for families to unload heirloom pieces at rock-bottom prices. Right now, with the renewed interest in art, there are more buyers vying for every single piece available for sale, and it has become a seller's market. But the situation also energized the art community with more works from unknown and lesser known artists available for those who wish to start collecting, or simply want to purchase pieces for themselves.
For first-time art buyers, many passionate collectors, artists, and enthusiasts would say one thing: Buy something that appeals to you, or speaks to you. Tin-aw Art Gallery curator Fatima Avila advises those who are starting to collect: "Use your eyes, buy what you like, and everything else is a bonus."
ADVERTISEMENT - CONTINUE READING BELOW
Tadiar recommends sticking to the most reputable galleries if you lack confidence in your own judgment. "Get to know the artists these galleries represent. Visit these galleries regularly. Go to all the shows….Read the exhibition notes: They're thoughtful appreciations of the artist, an explanation of what makes the art interesting. If you get the chance, talk to gallery owners and artists," he said. "Eventually, you too will get it. What's good, not so good, and what's downright awful."
*****
This article was originally published in the May 2015 issue of Entrepreneur Philippines magazine. 
Photo from Thinkstock