<>The next time you bite into a Sweetleaf soft batch cookie, relish it, because you may only sate your craving for Celina de Guzman's chewy treats at certain times of the year.
What began as a school project blossomed into a full-fledged business in 2010. When she's not busy baking, de Guzman pulls double duty as a freelance graphic designer and illustrator. But to thrive at both, she struck a compromise: Sweetleaf had been operating on a regular basis until December 2012, when the juggling act started to take its toll. "I was too exhausted to function," she recalls. "I realized that if I wanted to keep Sweetleaf alive, maintain its quality, and at the same time get at least seven hours of sleep, and wake up energized for design work, I would have to limit nights in the kitchen."
Running seasonally was ideal for a business that has always been a solo effort. "I want to grow, learn, and experience alongside Sweetleaf," says de Guzman, who's in no rush to expand and bring more people on board just yet. "I enjoy seeing my cookies not just as a box of goods for a customer, but as a product of my hard work. I can't imagine having other hands produce them."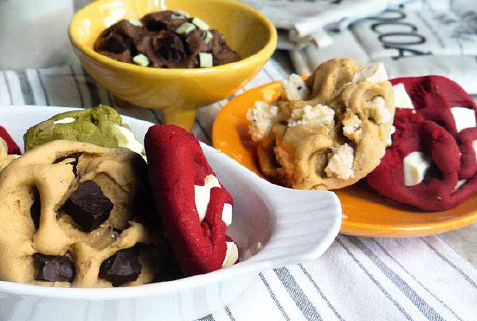 Managing time for business and job
During her downtime from baking, she works on illustrations and other art projects—one passion being a creative getaway from the other—and conceptualizes new cookie varieties, like Sweetleaf's unconventional Wasabi White Chocolate and Potato Chip cookies. The breaks also let de Guzman, a stickler for quality and consistency, be as hands-on with the business as she wants: Each Sweetleaf cookie has to be soft, lightly sweetened, dense, aromatic, and of course, "picture-worthy." All this attention to detail does not go unappreciated, as proven by the cult of repeat customers patiently waiting online for word of Sweetleaf's next opening.
Its ovens are open four to five times a year, and only for a week at a time: Sweetleaf takes orders for Valentine's Day and Christmas, and makes the occasional appearance at small bazaars. On average, de Guzman makes 30 dozen cookies over a week-long stretch, but this can go as high as 125 dozen in December, her peak season.
Being a hands-on entrepreneur
She still does most of the deliveries personally, despite the fact that distribution was one of the most exhausting aspects of managing Sweetleaf full-time. Besides, as a college professor pointed out, part of its appeal is anchored on "the idea of having home-baked cookies delivered to your doorstep." Meeting buyers face-to-face and exchanging warm words are simple gestures that go a long way in nurturing the customer loyalty and word-of-mouth that's buoyed Sweetleaf all these years. "Having those brief but memorable moments with the customers brings Sweetleaf a step up from being a simple cookie brand to an overall experience," she explains.
Cherishing its status as a 'humble home brand,' Sweetleaf isn't willing to run round-the-clock and risk its cookie caliber just to get in the ring with industry Goliaths. "I'd rather stop than succumb to commercialization," says de Guzman. "As a consumer, I realized that there's been too much happening in the food industry: Too many food trends, too many big guys, too much pressure." Businesses should be allowed to flourish at their own pace, says the 24-year-old home-based baker, advising fellow 'treps, "Don't compare yourself to others. It gets frustrating at first, but patience is rewarding."
Photo courtesy of Sweetleaf

This story was originally published in the May 2014 issue of Entrepreneur magazine. Subscribe to the print or digital version here.

ADVERTISEMENT - CONTINUE READING BELOW