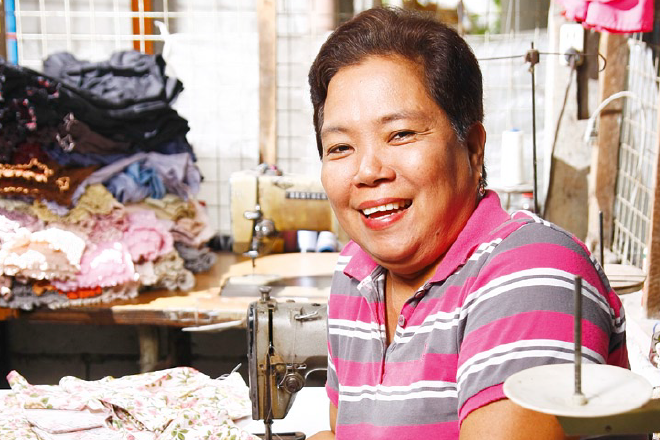 What can you do with P5,000? For Corazon 'Nanay Cora' Bautista, 45, that amount helped her start a flourishing ready-to-wear garments business, which is now making nearly P4 million in annual sales and is poised to crash the export market.

Where did she get that money? From a microfinance institution or MFI. In Bautista's case, it was Tulay sa Pag-Unlad Inc. (TSPI) who offered her a small loan for a six-month term in 2008—and as its corporate name implies in Filipino, the lender did act as a bridge to progress for Nanay Cora who now lives in San Isidro, Taytay, Rizal with her two children.

"Sinasabi ko sa sarili ko na kapag ako nagkaroon ng puhunan, 'pag ako binigyan ng pagkakataon, magsasarili na rin ako. Doon na ako nagsimulang mangarap, na sana'y magkaroon na rin ako ng ganitong negosyo, (I've been telling myself that if I had capital, if I got the chance, I would start my own business. That's when I started to dream of having my own venture)," says the native of Bacacay, Albay.

How she did it

What did Nanay Cora do with her five grand? Already an expert seamstress, she used P3,000 to buy cloth and sewing accessories like needles, thread, and buttons from the Taytay plaza textile market—the town is considered the garments capital of the Philippines—and set aside the remaining P2,000, making sure she had something left over to pay her micro-loan and start anew if her initial venture failed.

With two sewing machines in hand (one high-speed and one over-edging machine, saved up from two decades of working for other RTW firms) and the help of her husband and teenaged son, Bautista managed to complete over 100 pairs of 'sexy shorts' for women. Learning that the public market in Pasig City was a good place to sell her merchandise, she then headed for its night market and pitched camp among the sidewalk stalls there.

What happened next was completely fortuitous. As she waited for customers in the dark of the night market, a wholesale buyer for a clothing store in Baclaran—she could only identify the man as 'Buboy Bunal'—walked up to her, examined her merchandise (feeling out the cloth and using a flashlight to examine the shorts' workmanship), asked how many pairs she was selling, and offered to buy the whole lot if she counted them again.

In one fell swoop, Bautista got back her investment and earned a tidy profit, and that transaction started a regular twice-a-week trip to the Pasig market to sell more goods, usually to middlemen for clothing shops and garments wholesalers. As with her first deal, Nanay Cora would only use a portion of her earnings in succeeding trips for raw materials and operational expenses, saving the rest as a lifeline—and not taking out a single centavo from the business until after their first year of operations.

"A month into our business, I made a deal with my husband and son that we would not use money from our livelihood to buy our food, not even a peso," Bautista tells ENTREPRENEUR in the vernacular. "We agreed we would make ends meet using only my husband's earnings as a construction worker. We did not think of setting aside money for ourselves because we wanted to be able to buy materials and keep our production going. That was our tactic; if we had no cloth, thread, zippers, or buttons, then our production would stop, and we'd have to wait for sales to buy materials again."
ADVERTISEMENT - CONTINUE READING BELOW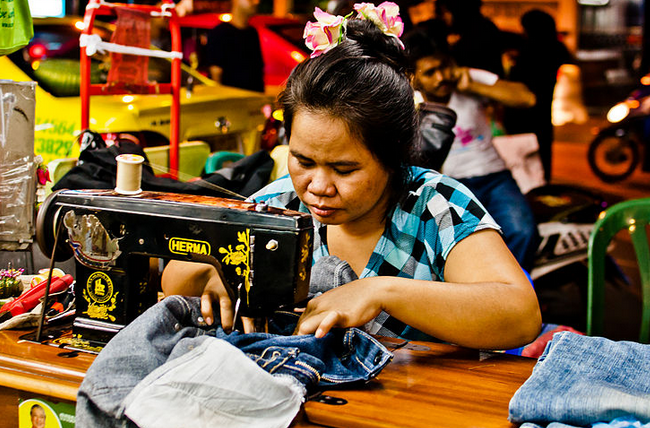 Getting bigger and better

This cycle continued until Nanay Cora was able to pay her P5,000 loan within six months. Seeing her progress, TSPI offered her another loan of P8,000, then P10,000, until the loans grew increasingly larger. Bautista took and paid them off each time, buying more sewing machines and materials and hiring more of her neighbors and fellow seamstresses to support the growing demand for her products.

Now Bautista, whose business is a single proprietorship, owns more than 20 pre-owned sewing machines and employs just as many people. Some of these machines she lends to subcontractors who work outside the Medina compound in San Isidro where the bulk of her production is. She eventually built a second-floor extension to her home to fit 20 machines, so she could stop renting a nearby house and supervise her workers more closely.

From just women's shorts, Nanay Cora's operation now makes various clothes, uniforms, and corporate attire for businesses and clothing firms that display their wares at malls, department stores, and shops across the country, including SM, Market! Market!, 168 Mall, Ever Gotesco Grand Central, and Gaisano stores.

Bautista also learned recently from one of her clients that her creations were being shipped to Canada and Pakistan. This fueled her urge to form a company that would market and export their products under their own brand ('Huge Isaac' in honor of her two sons—her eldest is actually named Eugene), thus allowing her business to keep more of the margins and profits that her clients, being middlemen, currently earn.

Long-term goals

Through everything, Nanay Cora's goals for her venture remain the same: to provide a decent livelihood for her family, her group mates in TSPI's microlending system and neighbors, and to dedicate their work to God, who for Bautista is truly a source of divine providence for her business.

Needless to say, she is now a firm believer in microfinance as well. She tells others to "huwag magdalawang-isip na lumapit sa microfinance; isa sila na tumutulong mapaganda ang hanapbuhay, makatulong sa komunidad, makabawas sa kahirapan, at isang magandang opportunidad (don't have second thoughts about approaching microfinance firms; they help improve our livelihood and our communities, they help reduce poverty, and give others good opportunities)." A little loan can indeed go a long way.
ADVERTISEMENT - CONTINUE READING BELOW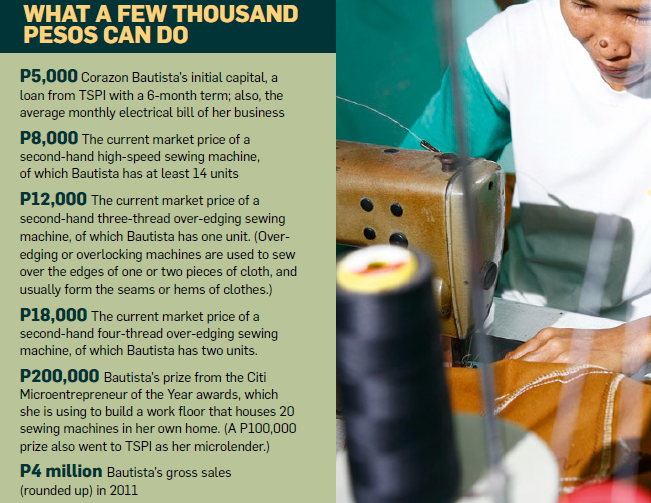 This article was originally published in the May 2012 issue of Entrepreneur magazine and was recently updated by the online editor. Subscribe to the print or digital version here.    

Main photo by Jun Pinzon; other image from Wikimedia Commons.