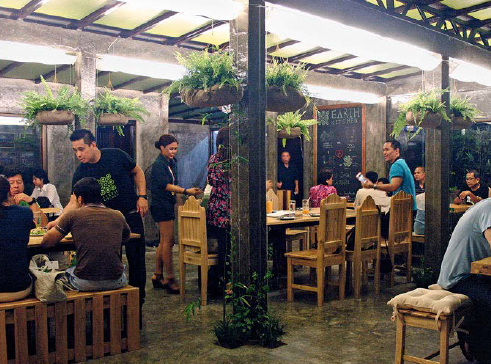 As the name implies, organic and homegrown fare is the order of the day at Earth Kitchen, but the new restaurant has another agenda besides healthy eats. "Customers say that they feel fresh after eating at Earth Kitchen. Even if they're full, they still feel good and happy," says Melissa Yeung, executive director of the Got Heart Foundation. "This is because we only serve the freshest ingredients. You don't need a sophisticated palate to distinguish this."

A joint project of the Got Heart Foundation and Hizon's Catering, its dishes— conceptualized by chefs JR Trani and David Hizon—can be enjoyed at mid- range prices, even though supply inconsistencies and the country's erratic weather can make it difficult to source ingredients locally. It's one of the restaurant's most pressing challenges, prompting them to constantly expand its network of producers. But, Yeung says, "We keep the prices affordable because we want more people to patronize the produce of our farmers."

Like its predecessor, the foundation's eponymous Got Heart Shop, Earth Kitchen was built from a refurbished skeletal structure—an old, rundown trellis. "What we wanted to do was up-cycle everything and integrate nature as much as we could," says Yeung, pointing to the converted space's use of natural light, indoor plants, and re-purposed wooden pallets.

Complementing each other

ADVERTISEMENT - CONTINUE READING BELOW
It's not the only thing they have in common. Located along White Plains in Katipunan Avenue, Earth Kitchen is within walking distance from Got Heart Shop, its main supplier, which sources products from more than 100 social enterprises and grassroots businesses. Its dishes are specifically crafted using ingredients that are also available at the store—primarily rice, vegetables, meat, honey, cheese, and milk—but despite their close ties the two are in different leagues, says Yeung. The milk and cheeses that are for sale at the Got Heart Shop, for example, are instead served as gelato in Earth Kitchen.

The success of one complements, not cannibalizes, the other: Earth Kitchen's main purpose is to spur more demand for their farmers' homegrown harvest, while its sister business enjoys a windfall. Previously, Got Heart Shop owed most of its profits to walk-in customers and select restaurants, but the launch of Earth Kitchen last year has "added a layer of regular sales for the shop" that helps stabilize its operations.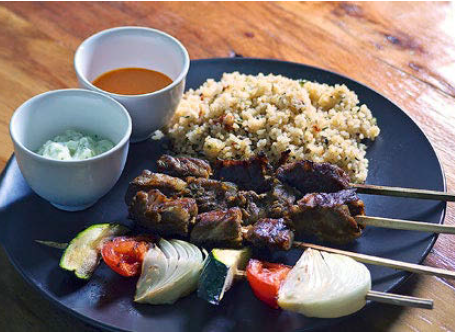 Unique dishes
ADVERTISEMENT - CONTINUE READING BELOW
In February, Earth Kitchen introduced a selection of dishes that features the seasonal produce of the foundation's partner communities from all over the country. It's charting unknown territory by exploring indigenous food culture, but Yeung welcomes the challenge. "Indigenous communities don't do massive production, and we understand their situation," she explains. These additions to the menu are also meant to accommodate their farmers' surplus produce, helping relieve the burden of having to sell them elsewhere.

"The vision has always been there. From the very beginning, it's been a dream of ours to complete the whole value chain and social entrepreneurship cycle, from production at the farms to marketing at the shops and product development," she shares. "This way, Got Heart's sales increase while Earth Kitchen gets to help community producers and promote sustainability."


Photos courtesy of Earth Kitchen
This article was originally published in the May 2014 issue of Entrepreneur magazine. Subscribe to the print or digital version here.  

ADVERTISEMENT - CONTINUE READING BELOW