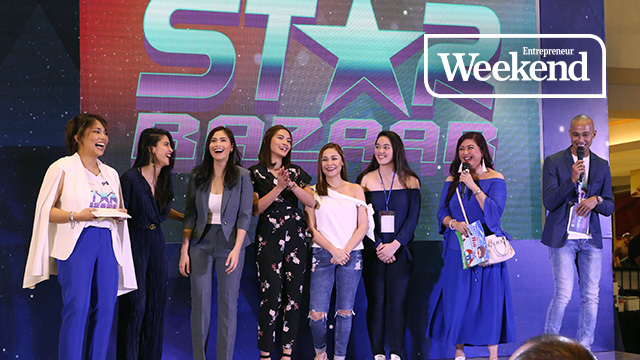 Star Bazaar was an event co-presented by Globe myBusiness and PEP.ph
There's a popular saying that one can never go wrong with a food business. Two stars-turned-restaurant owners debunk this, claiming it's a myth as one can fail in a food enterprise, particularly in the restaurant business.
ADVERTISEMENT - CONTINUE READING BELOW
TV personality Grace Lee together with her mom opened Kko Kko, a Korean restaurant specializing in chicken in 2016. To date, she has seven branches of her restaurant and will open six more by the end of the year.
Related story: How Grace Lee Opened 13 Branches of Kko Kko in Two Years
Meanwhile, former child actress Harlene Bautista along with her husband, actor Romnick Sarmienta, started Salu, a restaurant serving traditional Filipino dishes in 2016. The couple will open two more branches soon.
Lee and Bautista were just two of the stars who shared some of the lessons they learned as owners of restaurant businesses during Star Bazaar, an event co-presented by Globe myBusiness and PEP.ph, Entrepreneur Philippines' sister site, last August 17.
1. Perfect the recipe until you become the number one fan of your product
Lee recalls how she and her mother, who is also her business partner, travelled to Korea to find the perfect food that Filipinos would love. The mother-daughter tandem decided to focus on Korean fried chicken and street food and ate in many restaurants there that specialize in fried chicken.
ADVERTISEMENT - CONTINUE READING BELOW
"My mom and I siguro kumain kami ng mga isang daang manok bago namin na- perfect yung batter, to the point that I stopped eating chicken for six months. After namin buksan ang Kko Kko pag lumalabas kami para kumain sinasabi ko wag chicken (My mom and I probably ate 100 chicken before we were able to perfect the batter to the point that I stopped eating chicken for six months after we opened Kko Kko. I would beg off from eating chicken when we eat out).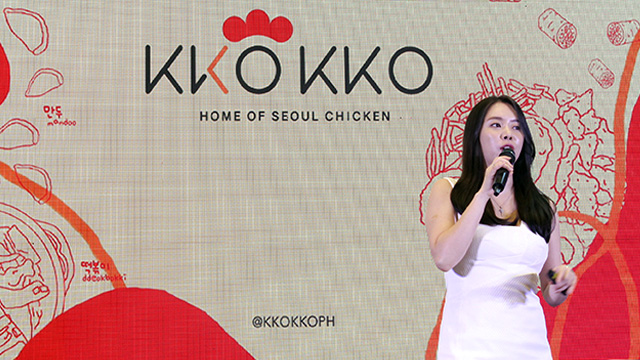 ADVERTISEMENT - CONTINUE READING BELOW
One of the speakers at the event was Grace Lee, who is the founder of Korean chicken restaurant Kko Kko
"You have to test, trial-and-error until you come up with the perfect recipe because you should be your number one fan ng iyong produkto kasi kung hindi paano mamahalin ng customer ninyo kung kayo mismo may pagduda sa sarili niyo (of your product because how can your customer love your product if you yourself doubt it)."
2. Identify a product that can carry your brand
Kko Kko's most popular product is the chicken cheese fondue, which stemmed from Lee's love of cheese.
"I did a lot of research and thank God I was able to mix my love of cheese dahil mahilig talaga ako sa keso, nilagagay ko sa rice sa lahat ng bagay (because I'm really fond of cheese. I place it on rice and on other kinds of food), so we came up with something cheesy," she added. "This has become the identity of our brand.
ADVERTISEMENT - CONTINUE READING BELOW
"When they think of your brand, there's something that should be at the top of their head that is uniquely yours. Example, Jollibee alam mo na kaagad yung item—Chicken Joy (you already know the product, Chicken Joy). There are many many restaurants and meron talaga dapat item na pag naisip mo siya kaagad ayun yung nasa utak mo (and there should be an item that's top of one's head). So, there has to be an item that has to be synonymous with your brand….I wanted our identity to be a good Korean chicken restaurant but our banner item became the fondue."
3. There should only be one boss
When asked how to manage owning and running a business with family, Lee says it is important to be clear on who the boss is.
"Dapat isa lang ang boss. Pag maraming boss mag aaway kahit pamilya o kaibigan. Sa amin ni mother, si mother talaga ang boss. (There should only be one boss. Family or friends would fight if there are plenty of bosses. For my mother and I, it's my mother who is the boss).
ADVERTISEMENT - CONTINUE READING BELOW
"Even as a couple, from the very beginning you need to set who the boss is, meaning the other person is there to support you, to help you. But at the end of the day, ang decision-maker ang pinaka-boss ng negosyo ay iisang tao (the decision maker, the boss of the business, is only one person)."
4. Remember that business is for profit
Bautista owned several businesses such as a cafe and flower shop, restaurant bar and a barbershop before opening Salu, her biggest business venture so far. She recalls how exceptionally soft-hearted she can be in running her business, a trait she is slowly trying to change after she started the restaurant.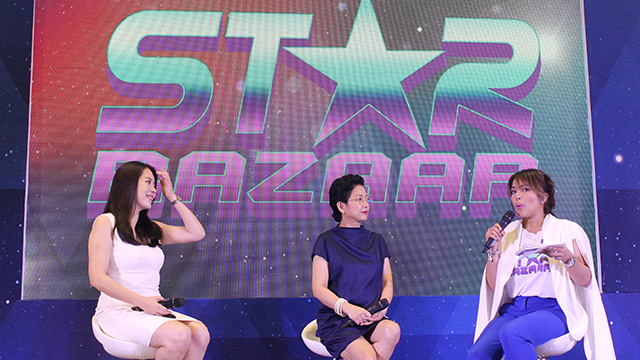 ADVERTISEMENT - CONTINUE READING BELOW
Grace Lee and Harlene Bautista answer questions from the audience during the panel session
"Ang negosyo dapat kumikita, hindi charity. Dahil gusto mo tulungan, bibigyan mo ng trabaho. Kahit hirap ka ni hindi mo isasara kasi naaawa ka sa tao mo. Yun ang biggest lesson. Ngayon ko lang naaalis sa system na hindi, dahil business dapat profit dapat hindi puso-puso. (A business is for profit. It's not charity. You can't hire because you want to help. Even if you're already suffering, you still won't close your business because you feel bad for your employees. That's the biggest lesson. It's only now that I'm able to remove that from my system. If you're a business, then you should think profit. It's not all about the heart)."
"Hindi sobrang lambot. dapat firm ka kung kailangan mo mag-fire ng tao, kailangan maging strict ka sa rules mo. (You can't be too soft. You should be firm if you need to fire an employee. You should be strict with your rules)," Bautista told Entrepreneur Philippines at the sidelines of the event.
ADVERTISEMENT - CONTINUE READING BELOW
5. Find a mentor
Bautista advises couples or family members who are new to a particular business to find a mentor.
"Kung kayong dalawa ay wala pang experience sa business then kailangan niyo ng mentor. (If both of you have no experience in the business, then you will need a mentor.) Someone who has done it successfully, someone who's doing it successfully. Kahit hindi ninyo kakilala pwede kayo magpakilala and humingi kayo ng advise dun sa industry na gusto ninyo pasukin. (Even if you don't know the person, you can approach and introduce yourself. Ask for advice about the industry you are about to enter)."
"Okay yung nandun yung support ng husband or mother or any family member or friend. Pero kung wala din naman talaga kayong alam pareho, parang blind leading the blind. (It's okay to have the support of your husband, mother or any family member. But when both of you don't know much, it's like the blind leading the blind.) So, you really have to find a good mentor or business partner who has done this successfully."
ADVERTISEMENT - CONTINUE READING BELOW
6. Be hands-on
Bautista recalls being hands-on during the first few months of operations of her previous businesses and handing off the management to someone else eventually.
"Hands-on sa simula tapos, eventually, pinapasa ko sa tingin ko kailangan i-handle. but then again, hands-on ka sa simula and hands on ka hanggang matapos. (I used to be hands on at the start and then I pass the management to somebody else. But then again, if you're hands-on at the beginning then you should be hands-on until the end)."
"Ngayon, morning pa lang Salu na nasa utak ko. Morning hanggang gabi nandun ako. May meetings every three hours kasi marami talagang problems (These days, Salu is the first thing on my mind in the mornings. I'm there from morning to night. We have meetings every three hours because there are really a lot of problems)," she said.
*****
Cherrie Regalado is a contributor to Entrepreneur PH. Follow her on Twitter: @cherrieregalado
ADVERTISEMENT - CONTINUE READING BELOW