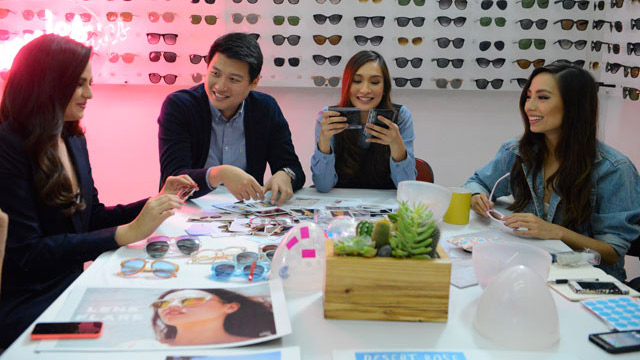 So how do you turn your fascination for sunglasses into a successful business venture? Georgina Wilson, supermodel and co-owner of the top-selling brand of sunglasses Sunnies, may be able to give you some advice.

Together with friends and business partners Martine Cajucom, Eric Dee, and Bea Soriano, she founded a company that managed to put up 35 outlets, some of which are now franchised, in just a short amount of time. Here are some of the business lessons the foursome learned along the way:

1. Know your individual strengths and work as a team.
Georgina and her partners knew their strengths and have each taken ownership of their assigned departments while moving together as a unified team. "As partners, we're not really afraid to get our hands dirty," she points out. "When we were starting out, we used Eric's car for deliveries. Martine and I created the marketing assets. Bea counted the inventory and made sure that everything's there. Now that we have teams of 20 to 30 people under us, we know everything that happens because we did it."


2. Be involved.
"It took us eight months to open our first store, but it felt like years," Georgina reveals. "We did everything, from the retail design to the lighting. We made sure that the product looked great. We were there at 6 a.m. setting the store up, putting the inventory in the shop and making sure that everything worked." With their hands-on approach, the four were able to open 35 stores within a year and are now set to expand their business in Southeast Asia.


3. Keep an eye for new opportunities.
The fashion industry thrives on trends, which means they all have to work, decide, and learn fast. "There are a lot of decisions to be made, and we don't want to miss any opportunities," Bea insists. "When National Sunglasses Day came along, we created chat rooms that catered to that topic. We want to cover everything and know what's happening. I'm still trying to learn it. You try to learn new things everyday because operations always evolve."


4. Believe in your brand.
The team worked very hard to perfect their products, which is why it's easy for them to push and be proud of their own merchandise. "We always believed that there's a market for sunglasses, and we wanted to find a way to give the market something that's aspirational yet affordable," Eric explains. "When you put so much worth into the brand, people really appreciate it. At the end of the day, it's all about knowing and believing in your product."


5. Make good use of technology.
"Social media is important to us because we want to have an open line of communication with our customers," Georgina reiterates. "In fact, we're happy to announce that we're one of the most followed brands in the country." The team has been able to expand their online presence due to the reliable Internet connection of their Globe MyBusiness plan.
Other than maintaining their massive online presence, the team also utilizes the particularly fast connection to keep everyone within quick reach and communicate with other branches through mobile chat group apps. Furthermore, Sunnies was also the first business to ever use Globe Charge, an online service that allows businesses to accept Mastercard and Visa payments via smartphones and tablets. Finally, the group is able to send photos, email reports, and update their social media pages with ease. See, it's all about being connected.
If you want to know more about Globe myBusiness products, visit www.mybusiness.globe.com.ph and follow Globe myBusiness on Facebook and Twitter. For inquiries, call its dedicated hotlines at (02) 730-1010 in Metro Manila and Luzon, (032) 401-1010 in Visayas and (082) 321-1010 in Mindanao.