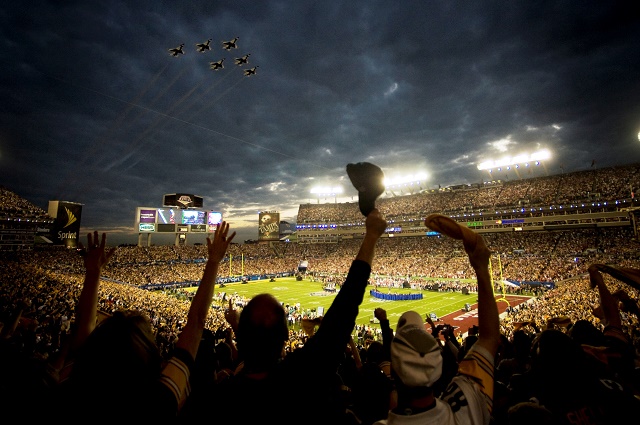 The Super Bowl is the biggest day of the year in (American) sports and for TV commercials. These 31 brands paid CBS at least $5 million bucks to show their 30-second spot to at least 100 million viewers—and all 31 of them (well, their marketing teams) will claim those dollars are well spent. 
ADVERTISEMENT - CONTINUE READING BELOW
Good for them! But, that's not you. A sports bar cannot afford these commercials, nor can your baby clothes boutique or tech startup, but you can still take advantage of the big game. You just have to get more creative. 
Study commercials for marketing research.
At the very least, learn from the commercials. These advertisers spent millions of dollars in research to understand current marketing practices and consumer trends—all to create a commercial that resonates with them. Take notes, observe others, read all the "best ads of the Super Bowl" blogs, and incorporate these learnings into your own business.
Related: 5 Lessons From Mostly Safe Super Bowl Ads
Host or sponsor watch parties.
If you have a restaurant or a retail presence, you can easily host watch parties at your location. It's great to come up with your own party and invite list, but start by reaching out to friends, family, and business associates who have hosted parties in the past. Let them know what you're doing, offer to help them with everything, and host it at your location—everybody wins!
ADVERTISEMENT - CONTINUE READING BELOW
Another idea is to strategically "sponsor" these watch parties, whether you're a restaurant that offers catering or a local office supply company. Provide the refreshments (hell, make logo-shaped cookies in the team colors), sponsor (and brand) the betting squares, and handle all the announcements with subtle mentions of your business.
Update your digital marketing for game day.
Keep it simple, but relevant.  Whether you have a women's clothing boutique or a startup tech company, this is a great reason to reach out to customers and update them on your business. Start by creatively updating your social media accounts to represent the game (Facebook cover photo updates, sponsored posts with "Super Bowl discounts," whatever). From there, you can launch Super Bowl-themed email marketing campaigns, combined with landing pages or micro sites, all showcasing your Super Bowl offers and offering timely deals (which can really just be first quarter or seasonal deals, renamed).
ADVERTISEMENT - CONTINUE READING BELOW
Related: Can't Afford a $4 Million Super Bowl Ad? Try These 3 Things Instead.
*****
Copyright © 2016 Entrepreneur Media, Inc. All rights reserved.

This article originally appeared on Entrepreneur.com. Minor edits have been done by the Entrepreneur.com.ph editors.
Photo from Wikimedia Commons