<>Appreciative future-oriented approaches work best when workplaces are free of most bureaucratic barriers that crimp the employees' potential. That's why it's important for you to create an open system where employees don't merely see tasks, but grasp the big picture – the company's goals and the environment in which they work. This process may run counter to business school models for solving problems, but it works and builds appreciative leaders at the same time.
The idea of a learning organization is not only for Fortune 500 companies or those listed in the stock exchange. Wherever you create an environment where employees continue to learn from the job and from one another, you have a learning organization. All you have to do is start with the people you have. And also, you have to practice what you preach. Be the positive, appreciative future-oriented leader your business needs to thrive.
ADVERTISEMENT - CONTINUE READING BELOW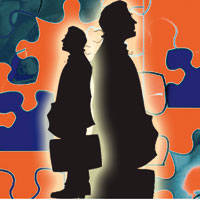 Be positive
How do you acquire this mindset of being focused on a positive future and move beyond the problem-solving trap? Here are some practical steps to get going:
• Clarify and update your goals. Involve your team in a conversation or simple participative workshop.
• Identify barriers to your vision and goals and come up with creative ways to address them.
ADVERTISEMENT - CONTINUE READING BELOW
• Don't view your environment (the economy, your industry, competitors, and market) fatalistically, but as something you are always adapting to and anticipating. Entrepreneurs improvise, and not blindly following a script.
• Create an environment of hope. Positive change is not a cold logical calculated move, but rather is a passionate pursuit that's full of wonder and surprise.
• Try some tools and methods to work with your employees. If you can, hire some help. If not, study up. But keep it simple.
• Don't underestimate what your employees can contribute. Just because someone lacks formal education doesn't mean they don't understand your business and customers well.
Peter Malvicini, PhD, is a strategic management consultant specializing in change management, effectiveness, and corporate learning. For over 12 years, he has worked in a dozen countries designing and managing executive retreats and workshops for planning, strategy, leadership and organizational development to increase client productivity, quality, and job satisfaction. Based in Manila, he may be reached at pgml@cornell.edu.
ADVERTISEMENT - CONTINUE READING BELOW