<>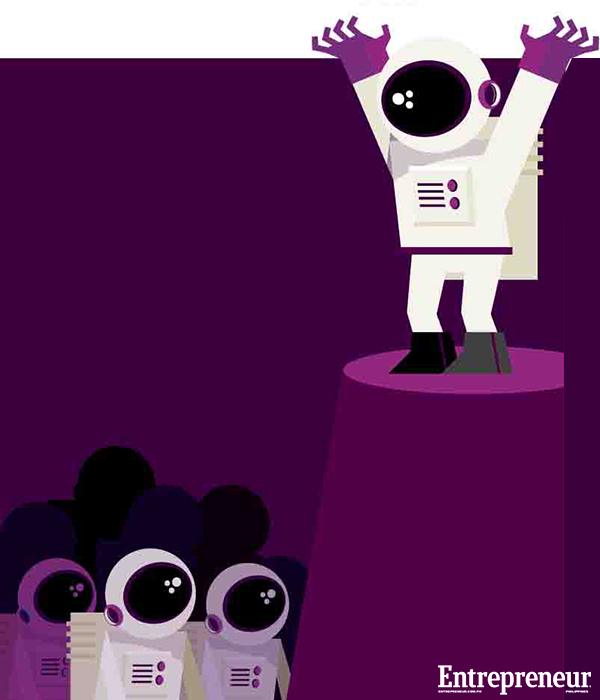 You've got the concept. You've got a solid business plan. Now, how do you get the money to launch your brilliant startup? As the saying goes, you need money to make money. Nobody knows this better than startup entrepreneurs.
LJ Moreno-Alapag, founder of The Lollicake Factory, started her business of making cake pops from home in November 2010, using Php 5,000 of her own savings to buy ingredients.
ADVERTISEMENT - CONTINUE READING BELOW
"I worked with what I had… I had a hand-mixer, and an oven that could only bake one 8-inch-diameter cake or [a batch] of 50 lollicakes [in one go]," recalls the part-time actress and former preschool teacher.
"I continuously baked with that [for the first year] until my husband felt sorry for me and bought me a KitchenAid mixer. It started from there."
Her husband, professional basketball player Jim Alapag, in fact, has been her official "mascot," she jokes, and her biggest backer—he fronted Php 200,000 for her shop in Kapitolyo, Pasig City.
"That's the best loan: there's no interest," she says, adding that the debt has already been paid off, first with a balloon payment of Php 70,000, from her winnings on the reality show The Amazing Race Philippines, followed by subsequent monthly payments covered by lollicake sales, which could reach Php 500,000 on a good month.
Dr. Antonio del Carmen, director of the Master in Entrepreneurship program of the Ateneo Graduate School of Business, speaks of the "three Fs" of bootstrapping: "family, friends and fools"—these are the people who would lend you the capital you need based simply on your character. They are inclined to support your endeavors, and it's up to you not to break that trust.
ADVERTISEMENT - CONTINUE READING BELOW
And if you don't have any of these three Fs, you can always use your own funds. At 28 years old, Oliver Segovia, whose goal had always been to start a business, figured he had enough corporate experience to strike out on his own.
"The plan then was to put [in] some of my savings, build a product, start it, and then raise venture capital money later on," he says of his decision to invest Php 100,000 of his savings to build the curated shopping site AVA.ph in 2011.
By bootstrapping, Segovia could dictate the direction of his business. "I wanted to control the company," he says, though funding everything meant that his initial capital was smaller than he wanted, and it took the entire Php 100,000 "to get to [the] first peso of revenue" because he wanted a fully functional retail site made from scratch, including the backend inventory management, customer relations management and order management systems.
ADVERTISEMENT - CONTINUE READING BELOW
On the other hand, Dustin Cheng, Justin Lim, Terence Lok and Angelique Uy, co-founders of customer rewards service ZAP Group Inc., pooled their personal funds for a seed capital of around Php 10 million. "We invested our own money. So we got the product going, started development, started sourcing the materials," says Cheng, who along with Lok, had previous startup experience via deal site DealDozen.com, which was acquired by Asia Deal Group.
Cheng says founders have to decide early on whether they would be getting external funding somewhere along the way. "Ideally, if you can grow fast without venture capital, then why not? That's the best route: that you can bootstrap everything, and you're still growing fast," he says.
"It's a very different route if you want to take funding and if you're not. If you're not [getting external capital], your priority is making money, right now, today, keeping the company alive cashflow-wise. If you're taking money, then your priority is growth. So with expenses, you can afford to be at a loss, as long as you'll grow fast and then you have an additional influx of money," adds Cheng.
ADVERTISEMENT - CONTINUE READING BELOW
Hanging on a shoestring
Prepare yourself for the inevitable belt-tightening and "that broke feeling"—and remind yourself that the big payoff comes in the long run. While the entrepreneurs we spoke to had capital from their 3Fs, they did have to employ lots of strategic sacrifices. Here are some:
1. Lower your pay grade
AVA.ph's Oliver Segovia waited six months to give himself a monthly salary of Php 30,000—way below scale for someone with a Harvard MBA, a CV that includes his work with a multinational corporation, and several job offers for more than 10 times that amount. A low point was when he realized, while out on a date, that he had only P642 left in his ATM account. "It was a really big sacrifice… but a part of me knew, that if I didn't [attempt the business], I'd probably regret it," says Segovia.
2. Time capital expenditures
ADVERTISEMENT - CONTINUE READING BELOW
LJ Moreno-Alapag of the Lollicake Factory didn't buy a baking table until The Lollicake Factory earned its first Php 15,000; she made do with the family car for years, only buying their delivery van later; and didn't lease a standalone store until they had at least 40 regular customers whose purchases would cover rent and utilities. It was only later that they transferred to their own commercial property.
3. Start small, scale up slow
Moreno-Alapag notes how "some people think big right away, like open a restaurant kaagad, and it's hard," whereas she's more likely to say, "Okay, hold on, let me see, slowly but surely." And yet, she doesn't let an opportunity pass. Because she doesn't have the capacity to open up more stores, but there have been numerous inquiries, consistent spike in sales and significant walk-ins at bazaars, she's venturing into franchising this year, with the help of Francorp Philippines. Even so, she's starting with kiosks rather than a full store.
ADVERTISEMENT - CONTINUE READING BELOW
4. Think – it's just a phase
"When I started, Php 70,000 [earned] in one month was big na. When we opened our first shop, Php 150,000 would be enough. Now, our target is to make at least Php 300,000 to Php 350,000 each month—but in December, we [could] actually reach Php 500,000 a month," says Moreno-Alapag. "It's really passion first and the money will come later."
*****
This article originally appeared in the September 2014 issue of Entrepreneur Philippines magazine. Minor edits have been made by Entrepreneur.ph.com.